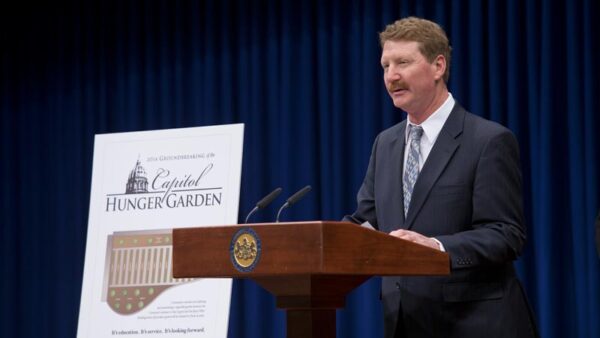 Caucus begins its 15th year working to fight food insecurity in PA
HARRISBURG, Feb. 2 – State Sen. Elder Vogel, Jr., R-Beaver/Butler/Lawrence, announced today that he will once again serve as co-chair of the Legislative Hunger Caucus and will be joined by Rep. Emily Kinkead, D-Allegheny, as the House co-chair for the 2023-2024 Legislative Session.
"I'm excited to welcome Representative Kinkead as caucus co-chair this session and look forward to another successful growing season in our hunger garden, which harvested over 700 pounds of produce last season. I also hope to continue our momentum in September with the annual food drive, when we recognize Hunger Action Month across the state and highlight the critical importance of food banks in our communities," said Vogel.
"Hunger is perhaps the least partisan issue Pennsylvanians face," said Kinkead. "Despite our state's reputation as a world leader in food production and processing, data shows that over 1.1 million of our state residents struggle with food insecurity in both rural and urban communities. If elected officials at all levels work together and prioritize this issue, I believe we can end hunger in Pennsylvania."
The Hunger Caucus was founded in 2008 by former state Sen. Mike Brubaker, R-Chester/Lancaster, with the goal of educating legislators on food insecurity issues, improving access to nutrition programs, and combatting hunger across the state.
In 2010, the Hunger Caucus established the Capitol Hunger Garden, located on the grounds of the State Capitol, which continues to serve as a valuable teaching tool and a volunteer-driven source of fresh produce more than a decade later. Additionally, the Hunger Caucus has worked to support the annual Capitol All-Stars charity legislative softball game, which raises money for the benefit of the Commonwealth's charitable food network.
Contact: Nate Clark nclark@pasen.gov