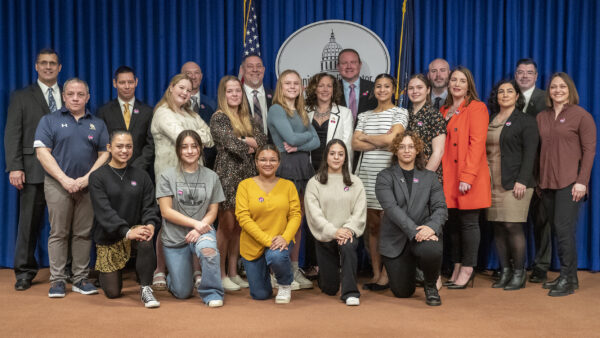 HARRISBURG – Lawmakers, advocates and stakeholders gathered in Harrisburg today to celebrate the creation of the 100th girls wrestling program in Pennsylvania.
Senator Scott Martin (R-13) and Representative Ann Flood (R-138) noted that the creation of 100 programs fulfills the requirement for the Pennsylvania Interscholastic Athletic Association (PIAA) to sanction the sport statewide.
"Girls wrestling has grown immensely in popularity throughout the country, and it is encouraging to see the tremendous evolution in the number of programs created in every corner of the state over the past several years," Martin said. "I am thankful that so many schools are now giving girls the opportunity to compete and have PIAA-sanctioned championship events in the near future."
"I was honored to be a part of this incredible achievement in women's sports," said Flood. "While wrestling is traditionally a male dominated sport, the rise of girl's high school wrestling is breaking down barriers and creating new opportunities for female athletes. Today we celebrated the creation of the 100th girls wrestling program in Pennsylvania. I was honored to be a part of this and I look forward to seeing all young women in Pennsylvania that choose to wrestle succeed."
According to the National Wrestling Coaches Association, girls wrestling is one of the fastest-growing sports in the country at the scholastic and collegiate levels. At the end of 2021, only 31 schools in Pennsylvania had established girls wrestling programs. Fifty-eight more teams were created in 2022 alone, more than doubling the previous number of schools who offered these programs.
"We have momentum. We have energy. Let's not stop at 100 programs," said PIAA Executive Director Robert A. Lombardi. "We need more female coaches, officials and administrators. We want this sport to continue to grow and stand the test of time."
Martin and Flood credited the non-profit group SanctionPA for supporting the rapid growth of girls wrestling through advocacy efforts, educational resources, promotional materials, and collaboration with schools.
"SanctionPA operates under the viewpoint that if you create equitable opportunities for girls athletics, growth will follow. And growth has indeed followed," said SanctionPA President Brooke Zumas. "We congratulate each and every school and athlete, past and present, who helped pave the pathway for the great sport of girls wrestling in Pennsylvania and we look forward to the sponsorship of this great sport by our state association."
The news conference was attended by athletes, coaches and athletic directors from numerous Pennsylvania schools who have formed girls wrestling programs, including JP McCaskey High School, Lancaster School District, Penn Manor School District, Souderton High School, Cumberland Valley, North Allegheny, Easton, Pennridge, and more.
"The school district is proud to be the 100th school, but is more proud to stand with all schools and student athletes that can now compete in new opportunities for groundbreaking sports like this," said Pennridge Athletic Director Scott Hegen. "The district looks forward to more opportunities where students will be able to excel with no limitations of any kind or bias of any kind."
PA USA Wrestling State Chairman Joe Stabilito, NHSCA Director of Special Programs Mattie Potter, and National Wrestling Coaches Association Executive Director Mike Moyer also participated in the news conference.
VIDEO OF FULL NEWS CONFERENCE: https://pasen.wistia.com/medias/30hj7l58d9
PHOTO CAPTION: Senator Martin and Representative Flood pose with advocates and participants from some of Pennsylvania's 100 girls wrestling programs who traveled to Harrisburg for a news conference today honoring their efforts to sanction their sport in Pennsylvania.
CONTACT: Jason Thompson (Sen. Martin)
Jordan Garrett Walters (Rep. Flood)