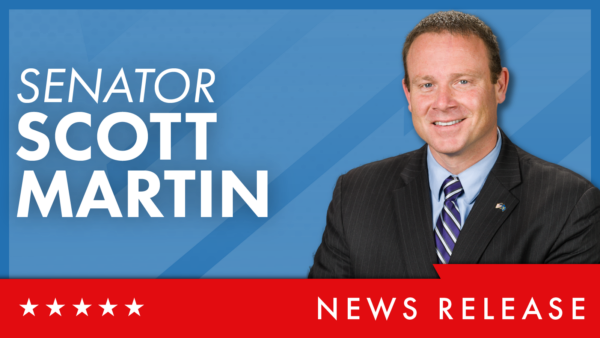 HARRISBURG – On the eve of International Childhood Cancer Day, Senator Scott Martin (R-13) highlighted advancements made in recent years to support families affected by pediatric cancer.
Over the past six years, the General Assembly has passed several critical laws to provide additional resources to fight pediatric cancer. Act 39 of 2017 established the Pediatric Cancer Research Fund and allowed for Pennsylvanians to donate to the fund via their state income tax returns.
Soon after the fund was created, Martin authored Act 73 of 2018, which created a mechanism for Pennsylvanians to donate when renewing driver license and vehicle registrations. The two laws have helped raise more than $3 million in donations over the past five years.
During budget negotiations the past two years, the General Assembly also approved the use a total of $20 million from the Tobacco Master Settlement Agreement for qualifying donations to Pennsylvania pediatric cancer research hospitals. The language of those laws mirror Senate Bill 74, which Martin introduced.
In addition to the new funding, Martin also authored Act 18 of 2019 to allow students facing an extended absence from school to participate in classroom activities using telepresence technology. The law prevents students from falling behind in their studies and missing out on critical social interactions with teachers and classmates.
Earlier this week, Martin also joined with Senators Wayne Langerholc, Jr. (R-35) and Cris Dush (R-25) to introduce a resolution honoring THON, a student-run philanthropy effort that has raised more than $240 million to support families who benefit from the Four Diamonds Fund at Penn State Health Children's Hospital.
Martin also introduced a resolution today designating February 15, 2023, as International Childhood Cancer Day in Pennsylvania.
"A child being diagnosed with cancer is one of a parent's worst nightmares, and families who face this incredibly challenging situation need to know that everyone is behind them," Martin said. "While I am incredibly proud of the accomplishments Pennsylvania has made so far to support these families, our work is far from over. We will continue to prioritize resources to support these families when they need us most."
CONTACT: Jason Thompson