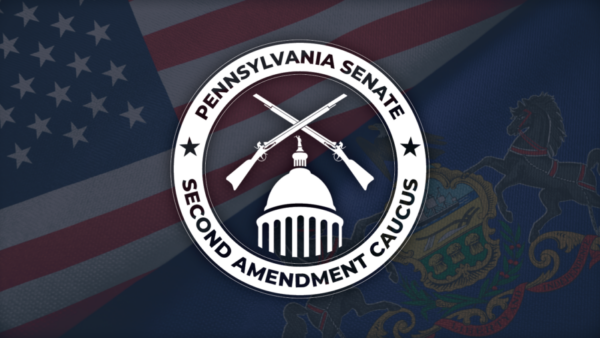 2023 State Capitol Right to Keep and Bear Arms Rally Set for Monday, June 12
HARRISBURG – Sen. Cris Dush (R-25) confirmed today that he is now serving as chairman of the first-ever PA Senate Second Amendment Caucus.
"Our sacred, Constitutional right to arm and protect ourselves, our loved ones, and our property is non-negotiable, and we must defend it," said Dush, who also serves as chairman of the heavily active Senate State Government Committee. "By establishing the Senate Second Amendment Caucus, I am honoring the requests made by PA House Second Amendment Caucus Chair Rep. Abby Major (R-60) and former Rep. Daryl Metcalfe (R-12) to offer my Senate colleagues more opportunities to become actively involved in protecting and strengthening lawful firearms ownership."
In addition to Chairman Dush, the following state Senators are inaugural members of the PA Senate Second Amendment Caucus: Sen. David Argall (R-29), Sen. Ryan Aument (R-36), Sen. Lynda Schlegel Culver (R-27), Sen. Kristin Phillips-Hill (R-28), Sen. Scott Hutchinson (R-21), Sen. Wayne Langerholc (R-35), Sen. Doug Mastriano (R-33), Sen. Tracy Pennycuick (R-24), Sen. Greg Rothman (R-34), Sen. Pat Stefano (R-32), Sen. Elder Vogel (R-47), Sen. Judy Ward (R-30) and Sen. Gene Yaw (R-23).
As a member of the Senate Judiciary committee, Dush is again sponsoring legislation (Senate Bill 357) to fully allow for the life-preserving, Constitution enforced concealed carrying of legally owned firearms. In the near future, he plans to introduce legislation that would prevent financial institutions and credit card companies from tracking the Second Amendment transactions of law-abiding citizens.
"The foundational mission statement of the Senate Second Amendment Caucus is Article 1, Section 21 of the Pennsylvania Constitution which unquestionably states: 'The right of the citizen to bear arms in defense of themselves and the state shall not be questioned,'" reiterated Dush. "Clearly, the safety and welfare of our citizenry cannot be guaranteed by criminalizing our most fundamental freedoms; disarming law-abiding citizens in 'gun free zones' or allowing the tyrannical confiscation of legally owned firearms."
Dush also officially announced that he will be co-hosting the 2023 Right to Keep and Bear Arms Rally with Rep. Major on Monday, June 12. Originally established and hosted by former Rep. Metcalfe over the past 17 years, this annual grassroots event brings together law-abiding gun owners from across the Commonwealth, pro-Second Amendment lawmakers and many other concerned citizens.
Beginning at 11 a.m., on the front Capitol steps, in Harrisburg (rain or shine), all those interested in attending are encouraged to keep visiting www.SenatorCrisDushPA.com or www.Facebook.com/SenatorCrisDushPA for the latest information.
CONTACT: Ty McCauslin, Communications Director at 717-787-7084 or tmccauslin@pasen.gov.