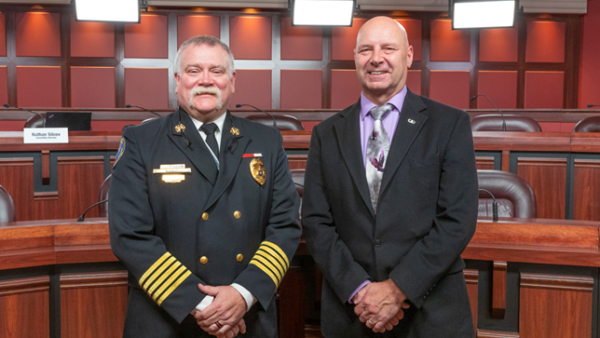 HARRISBURG – The Senate Veterans Affairs and Emergency Preparedness Committee, chaired by Sen. Doug Mastriano (R-33), advanced Monday the nomination of Acting State Fire Commissioner Tom Cook to the full Senate. The committee also approved two measures supporting deployed military families and extending the I-95 emergency declaration.
Cook on Jan. 13 was appointed the acting state fire commissioner to support the commonwealth's 2,400 fire departments and personnel. Cooke previously served as the assistant state fire commissioner, where he was the administrator of the Pennsylvania State Fire Academy and responsible for the oversight of the firefighter training system for the commonwealth.
"Tom Cook brings 36 years in the world of emergency management to this position," Mastriano said. "I am looking forward to working with him to help address the recruitment and retention of firefighters, which has been in a serious decline during the past several decades. Specifically, we're going to work on making it easier for our firefighters to obtain their 'Firefighter 1' certification."
The committee approved House Bill 804, sponsored by Rep. Frank Burns (D-72), which would clarify state law to ensure military families that deploy can pay in-state tuition rates at Pennsylvania's state-owned and state-related universities.
"The U.S. Department of Defense has found that some students lose their in-state tuition rate if their military parent is re-assigned to another state between the day they are accepted to a Pennsylvania college and the first day of the semester," Mastriano said. "This legislation will correct this by ensuring military families are guaranteed the in-state tuition rate as soon as a student submits the enrollment deposit."
The committee also approved Senate Resolution 136, sponsored by Sens. Jimmy Dillon (D-5) and Frank Farry (R-6), to extend until Nov. 1 the governor's emergency declaration for the for the I-95 bridge replacement project.
"The tanker explosion on I-95 was a tragedy for the life that was lost, a major disruption to the lives of residents of Philadelphia and a hurdle for hundreds of thousands of drivers along that corridor," Mastriano said. "My hat goes off to the first responders who were first on the scene, public works crews that handled the wreckage and the construction crews for putting in place a temporary roadway. This resolution will provide the commonwealth with additional time to cut through red tape to help get the permanent roadway done."
The two measures and the nominations now head to the Senate for consideration. Click HERE for the video from the meeting.
Constituents of the 33rd District can learn more about Mastriano by visiting his website at SenatorMastriano.com or following him on Facebook at Facebook.com/SenatorDougMastriano.
Media contact: Josh Herman
717-787-9603