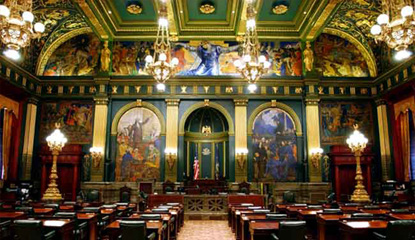 HARRISBURG – Senate President Pro Tempore Kim Ward (R-39) and Senate Majority Leader Joe Pittman (R-41) issued the following statement regarding Senate passage of Senate Bill 1:
"Today, with passage of Senate Bill 1, the Senate has fulfilled and completed our commitment to provide voters with a direct voice on voter identification, legislative review of regulations and opening the statute of limitations for child sexual abuse survivors through constitutional amendments.
"Advancing these three issues through constitutional amendments allows the matters to be put on the ballot and ultimately answered by the voters. The language approved in Senate Bill 1 is identical to the language that was passed during the 2021-22 legislative session and published in every corner of the Commonwealth for voters to read, review and provide feedback to their legislators.
"Passing multiple constitutional amendments in one bill, which are then presented to voters as separate questions, is not a new concept and has been utilized in prior sessions. Senate Bill 1 will be delivered to the House, and we look forward to their swift action to ensure the people of Pennsylvania will be presented with these questions in May."
________________
Members of the Senate Republican Caucus have spoken about the importance of each of the three constitutional amendments that are included in Senate Bill 1.
Video Remarks:
CONTACTS:
Erica Clayton Wright (Senator Ward) ewright@pasen.gov
Kate Eckhart Flessner (Senator Pittman) kflessner@pasen.gov