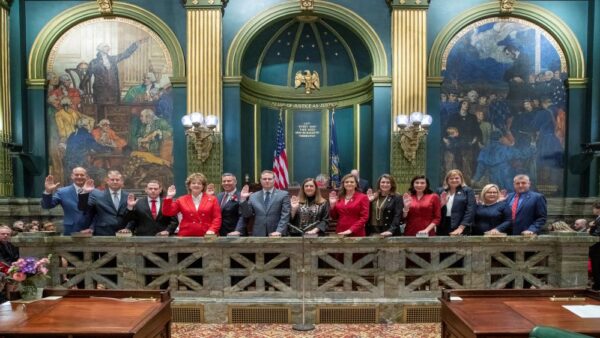 HARRISBURG – The Pennsylvania Senate convened today for the start of the 2023-24 legislative session, highlighted by the swearing in of members.
The proceedings also included the formal election of Sen. Kim Ward (R-39) as senate president pro tempore, as well as a vote on rules to govern the body for the next two years.
Among members taking the oath of office were five new Republican senators:
Rosemary Brown (R-40)
Jarrett Coleman (R-16)
Frank Farry (R-6)
Tracy Pennycuick (R-24)
Greg Rothman (R-34)
Republican senators sworn in after being re-elected are:
Ryan Aument (R-36)
Lisa Baker (R-20)
Camera Bartolotta (R-46)
Michele Brooks (R-50)
Chris Gebhard (R-48)
Kristin Phillips-Hill (R-28)
Pat Stefano (R-32)
Judy Ward (R-30)
The Senate Republican leadership team for 2023-24 is:
President Pro Tempore Kim Ward (R-39)
Majority Leader Joe Pittman (R-41)
Majority Whip Ryan Aument (R-36)
Senate Appropriations Committee Chair Scott Martin (R-13)
Majority Caucus Chair Kristin Phillips-Hill (R-28)
Majority Caucus Secretary Camera Bartolotta (R-46)
Majority Caucus Administrator Lisa Baker (R-20)
Majority Policy Committee Chair Dan Laughlin (R-49)
The Senate will return to voting session Monday, Jan. 9. Still to come are announcements of committee chairs and member committee assignments for 2023-24.
Voters gave Senate Republicans a 28-22 majority in the November 2022 General Election.