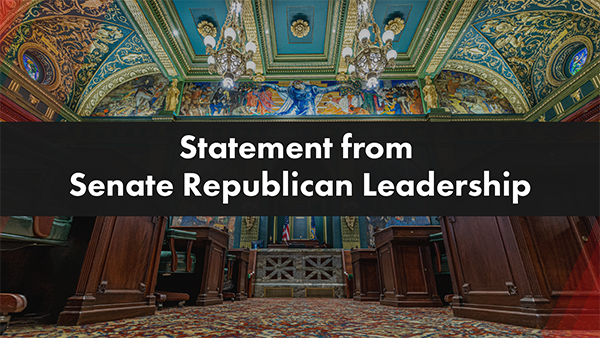 HARRISBURG – Senate President Pro Tempore Kim Ward (R-39), Senate Majority Leader Joe Pittman (R-41) and Senate Appropriations Committee Chair Scott Martin (R-13) issued the following statement today regarding the Shapiro Administration's failure to request the statutorily required amount be deposited in the state's Rainy Day Fund:
"There is only one reason why the Shapiro Administration wants to avoid following the law and having the required payments to the Rainy Day Fund made – because they want to be able to spend more taxpayer dollars in future years. It is deeply troubling Governor Shapiro keeps trying to change the rules every time he doesn't get what he wants.
"Existing law is abundantly clear that the amount transferred to the Rainy Day Fund should be nearly $900 million. Yet the total the Shapiro Administration is trying to have transferred is less than half that amount.
"This unprecedented action defies widely accepted accounting principles, years of past precedent by governors from both parties, and even the definition of a surplus presented by the Governor's own budget team in March. We will continue to explore all our options to ensure the letter of the law is followed and this taxpayer money is protected.
CONTACT:
Erica Clayton Wright (Senator Ward)
Kate Eckhart Flessner (Senator Pittman)
Jason Thompson (Senator Martin)