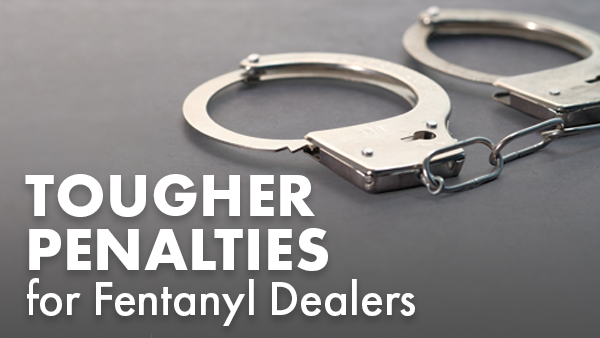 HARRISBURG – The state Senate today approved through a bipartisan vote a bill introduced by Sen. Doug Mastriano (R-33) that would enact harsher criminal penalties on drug dealers who sell drugs that lead to a death.
"Pennsylvanians are dying because drug dealers are lacing their products with lethal doses of fentanyl," Mastriano said. "People we know and love are being poisoned to death. The victims in this poisoning crisis deserve justice. This bill makes a bold statement that here in Pennsylvania, you cannot kill our citizens and get away without facing severe consequences."
Mastriano's Senate Bill 235 – also known as Tyler's Law – would establish a mandatory minimum sentence of 10 years in prison and a minimum $15,000 fine for anyone convicted of selling or distributing drugs that result in a death.
Under the current Drug Delivery Resulting in Death Statute, drug dealers who kill Pennsylvanians can be back out on the streets in two years or less.
The latest numbers from the Pennsylvania Commission on Sentencing show the average offender convicted under the statute from 2017-2021 received a sentence of less than five years. A significant number of offenders received no jail time at all.
According to the Centers for Disease Control and Prevention, there were more than 100,000 fentanyl- and opioid-related deaths in 2021, representing a 15% increase from 2020.
Mastriano introduced Tyler's Law in honor of Tyler Shanafelter, 18, who was the victim of drug poisoning on Oct. 10, 2020. Tyler purchased what he thought were Percocet pills. He didn't know the pills were laced with lethal amounts of fentanyl. Tyler lived in the Senate district Mastriano represents.
Following Tyler's death, his mom, Laura Shanafelter, learned the dealer who poisoned her son was back on the streets shortly after her son was killed. Laura has since become an advocate for holding drug dealers accountable.
"It's heartbreaking to hear about young Pennsylvanians unknowingly ingesting fentanyl and being poisoned to death," Mastriano said. "The family members and friends of fentanyl poisoning victims are crying out for justice and my bill would deliver it. Drug dealers who kill Pennsylvanians should spend hard time behind bars."
Mastriano's harsher penalties would not apply to drug users who share drugs with family members or friends, or those who seek medical help for individuals who overdose.
Senate Bill 235 now heads to the House of Representatives for consideration.
Constituents of the 33rd District can learn more about Mastriano by visiting his website at SenatorMastriano.com or following him on Facebook at Facebook.com/SenatorDougMastriano.
Media contact: Josh Herman
717-787-9603