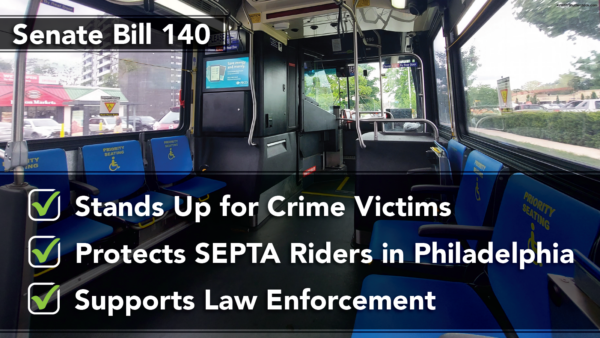 HARRISBURG – The Senate today approved legislation sponsored by Senate Transportation Committee Chairman Sen. Wayne Langerholc, Jr. (R-35) to crack down on the unchecked crime crisis plaguing Philadelphia's mass transit system.
The Southeastern Pennsylvania Transportation Authority (SEPTA) is the sixth largest mass transit agency in the United States and provides essential transit services for one-third of Pennsylvania's population. Riders and SEPTA employees have raised alarms on the increasing number of people they have to deal with who are addicted to drugs, experiencing homelessness and suffering from serious mental illness.
The Senate Transportation Committee traveled to Philadelphia on May 9, 2022, to collect testimony on the safety and sustainability of SEPTA. Members heard firsthand that law enforcement is stymied by a failure to follow through after arrests are made.
Senate Bill 140 would require the Pennsylvania Attorney General to appoint a special prosecutor from a county of the first class to institute prosecutorial jurisdiction when heinous crimes occur on SEPTA's property in Philadelphia.
This prosecutor would address the sweeping inaction of the current Philadelphia District Attorney (DA) and ensure scofflaws will answer for their crimes since the current DA has a systemic record of failing to prosecute assaults on victims.
"This dereliction of duty has cast a negative light on the City of Philadelphia and the commonwealth, which has significantly impacted safety and ridership," Langerholc said. "The working families, students and visitors of Philadelphia are in dire need of prosecutorial solutions, and my legislation will help restore law and order on SEPTA's buses, trolleys, trains and stations."
The bill now moves to the House of Representatives for consideration.
CONTACT: Gwenn Dando