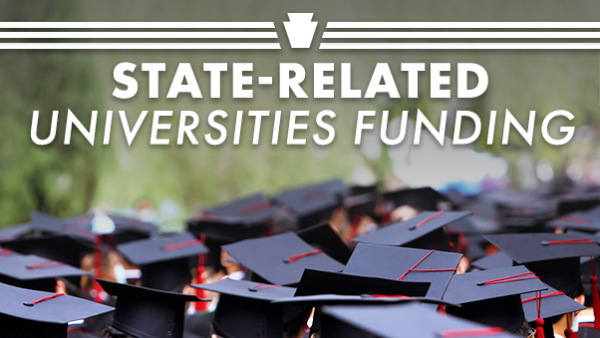 HARRISBURG – The Senate voted overwhelmingly to support funding and additional transparency measures for Pennsylvania's state-related universities today, according to Senate President Pro Tempore Kim Ward (R-39), Senate Majority Leader Joe Pittman (R-41) and Senate Appropriations Committee Chair Scott Martin (R-13).
Under House Bill 1461, general support for Penn State University, the University of Pittsburgh and Temple University would remain at the previous year's levels. Lincoln University and Penn College of Technology would receive increases of $3,235,000.
According to existing law, funding in the bill is directed to provide tuition discounts for in-state students, and universities are required to meet strict financial reporting requirements as a condition of receiving the money.
In addition, the Senate approved House Bill 1556, which would require greater transparency from state-related universities. The bill would ensure the institutions provide additional information in their annual Right-to-Know Law filing, including information related to contracts, financial statements, faculty, compensation, enrollment, courses and meeting minutes.
The Presidents and Chancellor of the state-related universities have voiced their support for both bills.
"Many of us disagree with some of the actions at the state-related universities, said Ward. "However, this funding benefits students and families directly by reducing in-state tuition and we need to assist them."
"This is a consensus product, and I am pleased the governor has committed in writing to sign both pieces of legislation we have advanced. The investment we are making will support students and prepare our workforce for tomorrow, while at the same time will bring greater transparency to our state-related universities," Pittman said. "Be assured our work to implement greater transparency does not end here. We will continue to push for more clarity when providing appropriations for next year as well."
"As an obligation to taxpayers whose money we are investing, our primary goal in funding higher education should be to give an opportunity for students to further their education, job skills, and credentialing to graduate and move on to family-sustaining careers and financial success, preferably in Pennsylvania, and meet workforce needs in our Commonwealth. We must continue to move closer to a performance-based model that meets that goal, while also finding ways we can be more attractive to potential students from other states to make Pennsylvania their home. That is the best way we can reverse the troubling economic and demographic trends we've seen in recent years and encourage more graduates to get jobs here, start families here, and build their lives here," Martin said.
CONTACT: Erica Clayton Wright (Sen. Ward)
Kate Flessner (Sen. Pittman)
Jason Thompson (Sen. Martin)