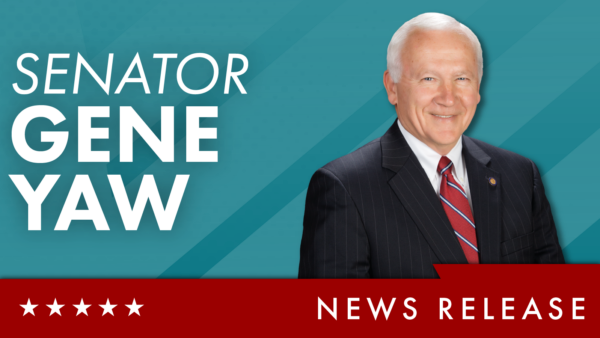 HARRISBURG – With the conclusion of the 2021-2022 legislative session, Sen. Gene Yaw (R-23) reflects upon the legislative accomplishments from the last year that advanced Pennsylvania's energy and environmental goals while laying the groundwork for more progress ahead.
"I'm proud of the steps we've taken forward last year to better align our vast energy resources with our economic longevity, though there is much more to be done in 2023 and beyond," Yaw said. "I'm grateful for my colleagues on both sides of the aisle who found common ground on these priorities and made them a reality for Pennsylvania."
Some of his legislative highlights include the adoption of the following bills:
Yaw also began work on pressing legislative issues that will continue in the new year, including plans to increase the fines and penalties for those who vandalize or cause destruction of any part of Pennsylvania's power grid, create a Domestic Animal Welfare Board and incorporate renewable natural gas into the Alternative Fuels Incentive Grant Program.
The year was not without its challenges, however, tensions flared between Gov. Tom Wolf's administration and the Senate Environmental Resources and Energy Committee, of which Yaw served as chairman, over Pennsylvania's entry into the Regional Greenhouse Gas Initiative (RGGI) and policies to protect energy choice.
In a move Yaw described as "baffling," the governor vetoed Senate Bill 275, a measure that would have prevented municipalities from banning access to certain energy sources. The "fuel neutral" proposal was designed to give residents, not bureaucrats, the choice to access whatever energy best suited their needs.
"While I'm still disappointed the governor didn't agree with this bill, I look forward to revisiting the issue in the coming legislative session," Yaw said. "Policies limiting the use of certain fuel sources only slows environmental progress and raises energy costs. This veto will hurt the most vulnerable among us the hardest at a time when they can least afford it."
Despite their differences, the Wolf administration and Yaw share a vision of Pennsylvania as a future hydrogen hub. This, paired with Yaw's proposal to promote carbon capture and sequestration, prioritizes energy and climate policies that work in harmony and boost economic growth, create jobs and make Pennsylvania a premier place to live and work for decades to come.
As a welcome acknowledgement of Yaw's commitment to Pennsylvania's economic vitality, multiple trade groups and publications recognized his pro-jobs, pro-growth voting record.
The PA Chamber of Business awarded him a legislative voting score of 100% for his consistent support of legislation to create jobs and lower taxes. He also earned a spot on City and State's 2022 Pennsylvania Agriculture Power 100 List and was recognized by the National Federation of Independent Business (NFIB) as a Guardian of Small Business for his impeccable voting record in support of key small business issues.
"I believe Pennsylvania is the best place to live in this country and want to see it grow and prosper," Yaw said. "I am honored by these recognitions and will do all that I can to champion these issues in the coming legislative session."
To find out more, visit Yaw's website or follow him on Twitter or Facebook. To learn more about the legislative accomplishments and future priorities of the Senate Republican Caucus, visit PASenateGOP.com.
CONTACT: Nick Troutman