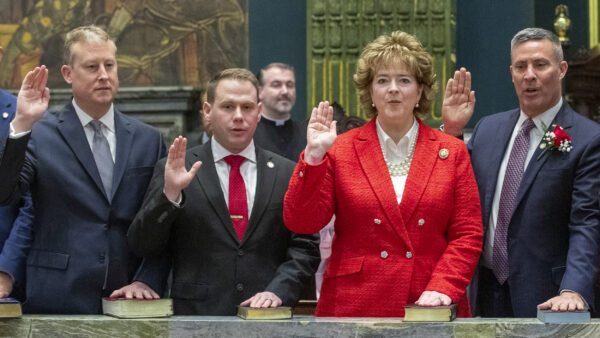 HARRISBURG – Sen. Jarrett Coleman took the oath of office today to represent the citizens of the 16th District in the Pennsylvania Senate.
Coleman was elected by voters in November to represent the newly drawn district, which covers most of Lehigh County and northern Bucks County.
"I am honored and humbled to be granted the opportunity to represent the citizens of the 16th Senate District in Harrisburg. They have entrusted me to be their voice in the Capitol and that's what I plan to be every day," Coleman said. "My team and I are ready to hit the ground running in our work to return state government to its proper role of listening to and serving the people."
An airline pilot, Coleman was previously elected to the Parkland School Board in Lehigh County, where he was a voice for parents seeking transparency, and taxpayers seeking an advocate to curb wasteful spending.
He was born and raised in the Lehigh Valley and lives with his wife, Katie, in Breinigsville with their two children. He is a graduate of Embry-Riddle Aeronautical University with a Bachelor of Science in Aeronautics and a Master of Business Administration.
Senator Coleman's website is www.senatorcoleman.com.
CONTACT: Gary Day