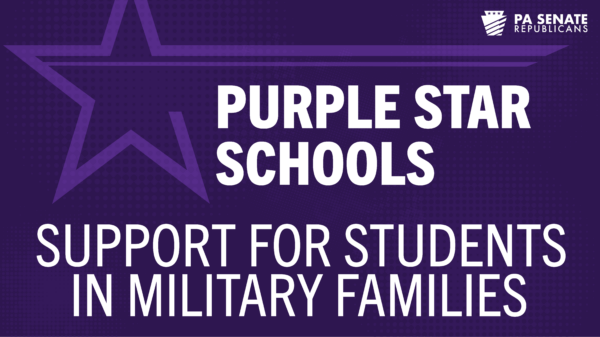 HARRISBURG – Legislation sponsored last year by sponsored by Sens. Pat Stefano (R-32) and Devlin Robinson (R-37) establishing the Purple Star School Program in Pennsylvania launched today, according to the Pennsylvania Department of Education (PDE).
The Purple Star School Program supports military-connected children as they relocate to new schools due to a parent's change in duty station.
"I am pleased to see the Purple Star School Program launch in Pennsylvania to make transitions easier for students who have already sacrificed so much," Robinson said. "For military families and their children, the process of changing schools can be incredibly challenging. I am grateful for the enactment of the legislation and encourage schools to apply for this important program."
More than half of U.S. states have enacted the Purple Star School Program – a state-sponsored recognition designed to acknowledge a public, private, or charter school that has committed to supporting the unique educational and social-emotional needs of military-connected students.
To learn more and apply for the Purple Star School designation, schools can visit PDE's website. The program is open to public and non-public schools in Pennsylvania.
CONTACT:
Allison Dutrey