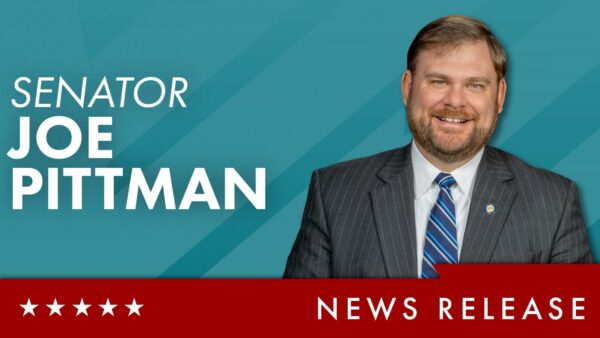 (HARRISBURG) – Senate Majority Leader Joe Pittman (R-41) has announced Senate staff for the Majority Leader's Office, for the 2023-24 legislative session.
"The staff that we have brought together to serve in my Harrisburg office, as well as in my district offices, brings a wealth of diverse experience that will be an asset to our team and to the Senate Republican Caucus," Sen. Pittman said. "Each of these individuals is smart and hard-working, and will help to assist constituents, staff, and members of our Caucus, as we tackle the important issues before the Commonwealth."
Sen. Pittman's Harrisburg staff will be located in his Capitol Office in 350 Main Capitol Building. District staff serving constituents throughout the 41st Senatorial District is located in Indiana and Kittanning, and in the near future will also provide assistance in New Kensington.
Harrisburg/Capitol Office Staff
Carlton Logue – Chief of Staff and Counsel
Scott Sikorski – Director of Legislative Affairs
Crystal Clark – General Counsel to the Senate Republican Caucus
Chris Donahue – Legislative Counsel to the Majority Leader
Alex Fefolt – Legislative Assistant
Kate Eckhart Flessner – Communications Director
Colleen Greer – Legislative Director
Danielle Guyer – Director of Budgetary Affairs
Colleen Kennedy – Executive Assistant
Merritt Reitzel – Legislative Counsel to the Majority Leader
Karen Secoges – Legal Staff Administrator
Christy Short – Executive Assistant/Harrisburg Scheduler
Kara Via – Executive Assistant
Vicki Wilken – Legislative Counsel to the Majority Leader
41st District Staff
Jeremy Dias – Deputy Chief of Staff
Benjamin Bush – District Director
Tammy Hozak – Field Representative
Gina Jones – Field Representative
Laura Terihay – Executive Assistant
Tammy Weaver – Executive Assistant/District Scheduler
CONTACT: Kate Flessner kflessner@pasen.gov 717-787-8724