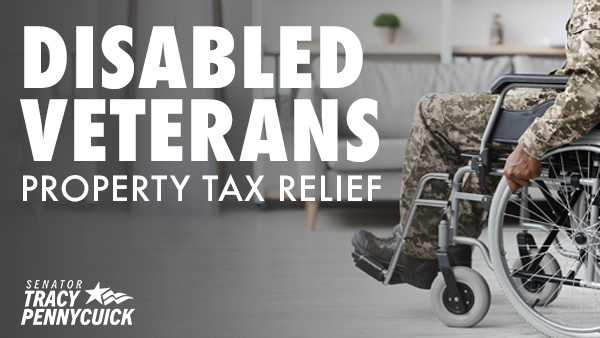 HARRISBURG – Legislation sponsored by Sen. Tracy Pennycuick (R-24) allowing more disabled veterans to receive property tax relief was approved by the Senate Veterans Affairs and Emergency Preparedness Committee today.
Senate Bill 194 would exclude federal VA Aid and Attendance benefits as income when calculating eligibility for Pennsylvania's 100% Disabled Veterans' Property Tax Exemption. VA Aid and Attendance benefits provide monthly payments to disabled veterans who are housebound or need help with daily activities.
Including these benefits when calculating income is preventing some disabled veterans from qualifying for property tax reductions. Some of the veterans receiving VA Aid and Attendance benefits have the greatest need for the property tax exemption and receive this disability benefit to assist them in paying for everyday functioning, care services, medication management and renovations to their residence to accommodate their disability.
"We owe the brave men and women who put their lives on the line in defense of our country a debt of gratitude that can never truly be repaid. When those servicemen and women are injured in the line of duty, we as a grateful state need to ensure that they receive the proper aid and benefits they deserve," Pennycuick said.
Pennycuick is also sponsoring Senate Bill 844, which would allow for a reduction in assessed value of a disabled veteran's property value, building and land, for the purposes of property tax assessment. The assessed values would be lowered in relation to the individual's disability rating.
"There is no more fundamental level of support we can provide to our disabled veterans than the promise of keeping them in their homes. For many of these heroes, property taxes threaten this basic right," Pennycuick said.
Senate Bill 194 moves to the full Senate for consideration.
CONTACT: Matt Szuchyt