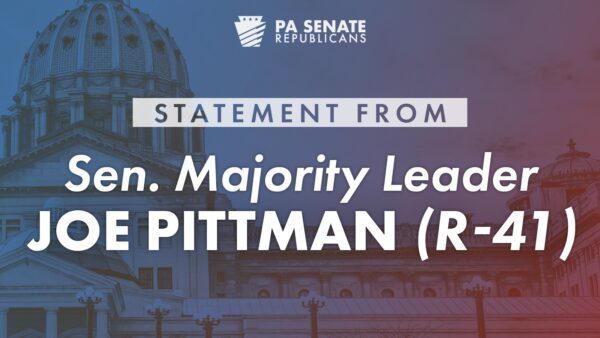 Following release of Shapiro's RGGI Working Group Report
HARRISBURG – Today, Senate Majority Leader Joe Pittman (R-41) issued the following statement calling on Gov. Josh Shapiro to accept one of the recommendations of the Shapiro RGGI Working Group, which highlighted the need for legislative approval, and urged immediate action be taken to withdraw from the Regional Greenhouse Gas Initiative (RGGI).
"For the last several years, I have stressed the RGGI Electric Tax violates our state constitution, which grants exclusive power to the legislative branch to levy taxes. The actions of Gov. Wolf and his decision to unilaterally force Pennsylvania to join RGGI was a failed policy. Unfortunately to date, the Shapiro administration has chosen to follow in those same footsteps.
"The outcome of Gov. Shapiro's working group is overall quite hollow, and it is abundantly evident there is no consensus of the group on how to implement any type of electric tax on carbon emissions. However, the report makes two points clear: 'There was not consensus on the preferred specific form of cap-and-invest (i.e. RGGI vs. PJM-wide)' and 'Legislative codification is the preferred method of institutionalizing the various elements outlined.'
"Touting his achievement of putting together this group is noted, but the question remains: what will Gov. Shapiro do now that his working group has completed their task? If the governor is so eager to accept their recommendations, he should immediately withdraw our commonwealth from RGGI and look for a legislative solution which respects the need for family sustaining jobs, and positively impacts Pennsylvania's economy."
MEDIA CONTACT: Kate Eckhart Flessner kflessner@pasen.gov