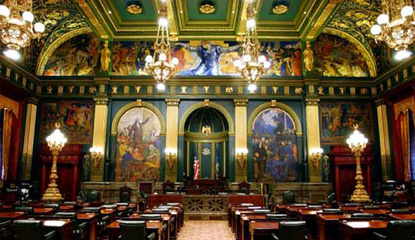 HARRISBURG – As part of the new Senate Republican Caucus leadership team for the 2023-24 legislative session, Sen. Dan Laughlin (R-49) was appointed by Senate President Pro Tempore Kim Ward (R-39) to serve as the Chairman of the Senate Majority Policy Committee.
"The Policy Committee often serves as a staging ground where legislative ideas can be dissected, critiqued and improved," said Laughlin. "As chairman of this body, I look forward to vetting those ideas so that legislation approved by the Senate helps Pennsylvanians and ensures the prosperity of our commonwealth."
"I plan to be active across the state holding hearings and gathering input on policy issues important to our both our caucus and the people of Pennsylvania," Laughlin added.
As the incoming Policy Committee Chairman, Laughlin replaces Sen. Mario Scavello (R-40), who retired from the Senate at the end of the 2021-22 legislative session.
The last known record of a senator from the 49th District in a Republican leadership role dates back to 1907, when Sen. Albert Everton Sisson was Senate President Pro Tempore from 1907 to 1908. Considered a statesman respected among all his colleagues, Sisson was perhaps best known for his work to commemorate the victory won by Commodore Oliver Hazard Perry and his fleet at the Battle of Lake Erie in the War of 1812. He was instrumental in securing state funding for finding, raising and restoring the brig "Niagara," which is still a massive tourist attraction for Erie today.
"It's very interesting to see the similarities between Sen. Sisson and myself," Laughlin said. "From both being Republicans representing the 49th District in leadership, to serving as chair of the Senate Game and Fisheries Committee and our affinity for the Flagship Niagara, which I have been working to secure funding to build a new replica."
The new legislative session technically begins Dec. 1, but practically doesn't start until legislators are sworn into office on Jan. 3, 2023.
Contact: David Kozak 717-787-8927