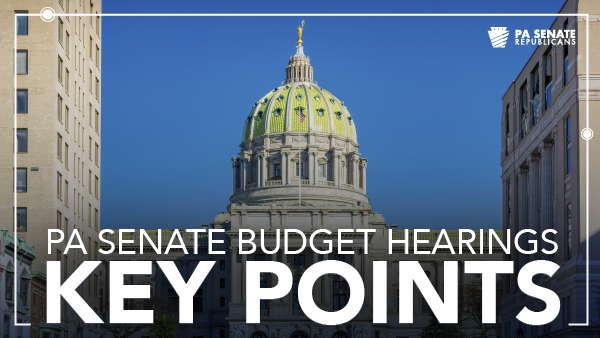 HARRISBURG – The Shapiro Administration's steps to impose nearly $670 million in new energy taxes on consumers highlighted today's public hearings on the proposed 2023-24 state budget.
Gov. Josh Shapiro has not moved to withdraw Pennsylvania from the Regional Greenhouse Gas Initiative (RGGI), which will allow new taxes on energy producers to be passed on to families, schools, hospitals and job-creators.
Department of Environmental Protection
Senate Environmental Resources and Energy Committee Chair Gene Yaw (R-23) pressed acting Secretary Richard Negrin and DEP officials for details on how the multistate RGGI compact would be administered. As Pennsylvanians grapple with higher energy costs, Senate Republicans have sought all legislative and legal means to block this misguided energy tax proposal.
Committee members also highlighted DEP's inefficient permitting process, which burdens new and expanding businesses and hampers job creation, and urged that Pennsylvania maintain diverse energy sources to ensure access to reliable power generation.
Senator Martin on the Clean Streams Fund, RGGI, PA's Broken Permitting Process, and More
Video Highlights
Auditor General
The auditor general is the chief fiscal watchdog of the commonwealth and is responsible for conducting audits to ensure state resources are being used appropriately. Auditor General Timothy DeFoor discussed the laws that govern his work and the type of audits his office performs.
He was questioned about the office's audits on school district reserve funds, as well as the previous auditor general's audit of Pennsylvania's SURE voter registration system and the need to follow up on the findings.
Video Highlights
You can find the hearings schedule, livestreams, daily recaps and video from prior hearings at PASenateGOP.com.
CONTACT: Jason Thompson