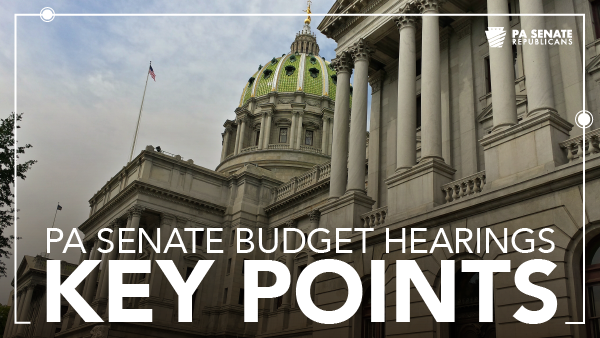 HARRISBURG – Declining enrollment and the cost of higher education highlighted Thursday's Senate Appropriations Committee hearings on the 2023-24 budget requests for state-related universities and the State System of Higher Education.
The proceedings wrapped up the second of three weeks of budget hearings. Gov. Josh Shapiro's $45.8 billion plan seeks to boost state spending by more than $1.3 billion above the current year's budget. Projections indicate it will nearly wipe out the state's Rainy Day Fund in five years.
State-Related Universities
State-related universities are requesting huge increases in taxpayer support: Penn State University seeks a 47.6% increase in funding; University of Pittsburgh, 6%; Temple University, 16%; and Lincoln University, 25.3%. The governor's budget proposal increases funding by 7.1% across the board.
Senator Martin on Preparing the Workforce, Keeping Tuition Low, Luring Talent to PA, and More
Video Highlights
State System of Higher Education
The Pennsylvania State System of Higher Education (PASSHE) has requested a total of $685.4 million, an increase of $133 million, or 24.1%, over the current year's budget. The governor's budget provides a 2% increase.
Video Highlights
You can find the hearings schedule, livestreams, daily recaps and video from prior hearings at PASenateGOP.com.
CONTACT: Jason Thompson