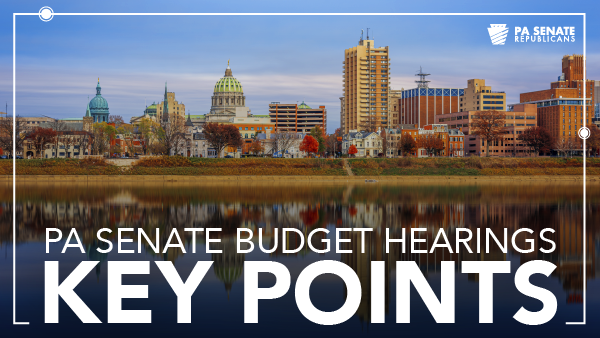 HARRISBURG – The Senate Appropriations Committee reviewed the budget request for the Department of Human Services on Wednesday.
The hearing was part of the third and final week of the committee's examination of Gov. Josh Shapiro's $45.8 billion plan, which seeks to boost state spending by more than $1.3 billion above the current year's budget.
Committee members questioned Acting Secretary Dr. Valerie Arkoosh about how the department is handling reduced federal emergency funding, as well as the Shapiro Administration's request for state taxpayers to backfill hundreds of millions of dollars cut by the Biden Administration.
Full Hearing (Part 1)
Full Hearing (Part 2)
Senator Martin on Juvenile Justice, Behavioral Health, Home- and Community-Based Care, and More
Video Highlights
You can find the hearings schedule, livestreams, daily recaps and video from prior hearings at PASenateGOP.com.
CONTACT: Jason Thompson