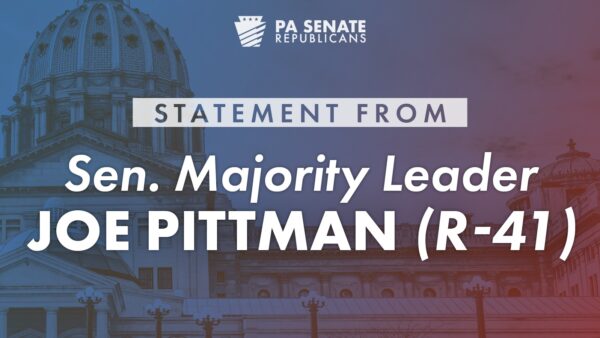 HARRISBURG – Today, Senate Majority Leader Joe Pittman (R-41) issued the following statement following the Commonwealth Court's ruling that entrance by the Department of Environmental Protection (DEP) and state Environmental Quality Board (EQB), into the Regional Greenhouse Gas Initiative (RGGI) without legislative approval, violates the Pennsylvania Constitution.
"Today's ruling by the Commonwealth Court affirming the RGGI Electricity Tax violates our state Constitution is a victory for Pennsylvanians. The Senate Republican Caucus has been unwavering in our commitment to advocate for communities across our commonwealth who would be harmed by the RGGI Electricity Tax. At a time when families continue to feel the strain of inflationary pressure, we must look for ways to decrease, not increase, the cost of electricity.
"The Commonwealth's participation in RGGI may only be achieved through legislation duly enacted by the Pennsylvania General Assembly, and not merely through the rulemaking promulgated by DEP and EQB. Gov. Wolf's decision in 2019 to unilaterally force Pennsylvania to join RGGI was a failed, harmful, and unconstitutional policy.
"With this decision we have the opportunity to finally close a tumultuous chapter and move forward to determine the best legislative solution to foster greater energy independence, while ensuring the responsible development of our God-given natural resources."
MEDIA CONTACT: Kate Eckhart Flessner kflessner@pasen.gov