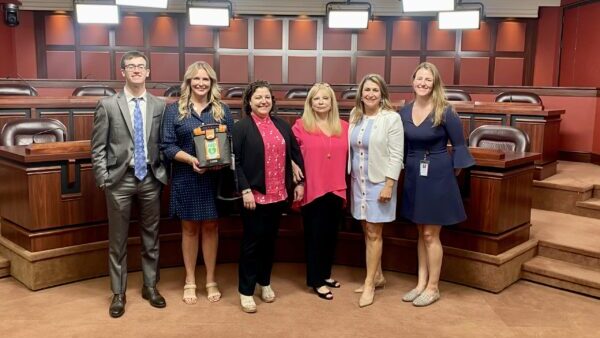 HARRISBURG – Sen. Rosemary Brown's (R-40) bill requiring schools to have an automatic external defibrillator (AED) present at all schools and athletic events was approved unanimously this week by the Senate Education Committee.
Senate Bill 375 would require a sudden cardiac arrest (SCA) detailed emergency plan and an AED located within each school building, at all school sporting events and activities and have adequate personnel trained for the device.
"This legislation has been a long-time passion for me, in response to the tragic passing in 2000 of Greg Moyer of East Stroudsburg, who passed away at age fifteen from SCA," Brown stated. "John and Rachel Moyer and the Moyer family's mission has been to work fiercely across the country and here in Pennsylvania to help ensure other families are protected as much as possible." There were no AED's present at the school where Greg suffered a SCA tragedy – the availability of an AED may have saved his life.
"The safety of our students across Pennsylvania is always a top priority and I am grateful that the Senate Education Committee voted unanimously in favor of the bill," Brown said.
It is estimated that one in 25 high schools in the United States will have a sudden cardiac arrest event each year. "This bill gets us the most prepared and ready for a SCA incident within the school environment and activities, protecting not only students but staff and visitors, as well." When an AED is used within minutes of a SCA event, survival rates are almost 75%.
Brown said, "One life lost is one too many and everyone deserves a second chance."
The bill now goes to the full Senate for consideration.
CONTACT:
Christine Zubeck, 717-787-6123