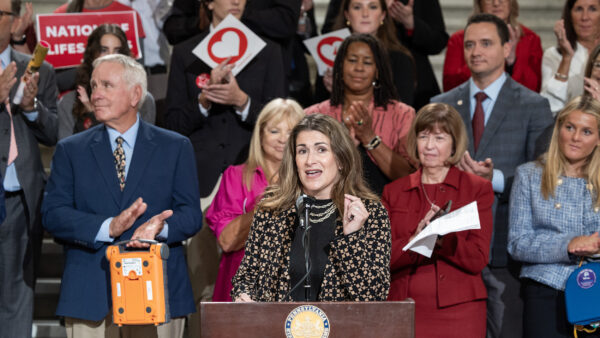 HARRISBURG – Sen. Rosemary Brown (R-40) hosted a press event today urging the Pennsylvania General Assembly to pass her lifesaving legislation. Brown was joined by many advocates, survivors, legislators and members of the Smart Heart Sports Coalition.
The legislation – Senate Bill 375 – would require schools to have an automatic external defibrillator (AED) present at all school-sponsored events, athletic events and practices. An AED is a portable medical device that delivers a shock to the heart through the chest wall to restore normal heart rhythm and is used to treat victims of sudden cardiac arrest. In young athletes, sudden cardiac arrest is often due to an underlying, undiagnosed cardiac condition.
Brown's bill, along with previous legislation that she championed in 2014, were inspired by the late Greg Moyer, formerly of East Stroudsburg, who passed away at age 15 of sudden cardiac arrest during a high school basketball game in December of 2000.
"Since my time in the House of Representatives, I have been advocating to increase access to AEDs," Brown said. "I was led to spearhead legislation by my constituents' story. John and Rachel Moyer tragically lost their son, Greg, at 15 years old. In 2014, I passed a law requiring schools to report to the Pennsylvania Department of Education the number, condition, age and placement of all AEDs in their schools. This legislation is the action plan to ensure we can save lives."
"We are still fighting the fight," Rachel Moyer said, who was in attendance. "We've [Greg Moyer Defibrillator Fund] gotten over 17,000 AEDs placed across America because the biggest fear you have is that your kid will not be remembered."
Senate Bill 375 would also provide training for school employees and volunteers, as well as instruction of the principles and techniques of CPR and the use of an AED on school premises at least once every two years. Additionally, it would ensure that each school has at least five individuals AED trained and certified. The bill would also require schools to develop or amend a cardiac emergency response plan that meets nationally recognized standards.
Ken Edmonds, vice president of public policy and government affairs for the National Football League (NFL) and Smart Heart Sports Coalition representative, was one of the featured speakers.
"Sen. Brown, thank you for your leadership and for sponsoring Senate Bill 375. The NFL and members of the Smart Heart Sports Coalition are honored to join you in strong support of this crucial legislation," Edmonds said. "The Smart Heart Sports Coalition was founded in March and inspired by the Commonwealth's own Damar Hamlin and the lifesaving emergency response care he received immediately following his catastrophic injury on January 2nd. Our goal is straightforward – to save lives. We want Pennsylvania and every state across the country to adopt commonsense, evidence-based policies that will prevent fatal outcomes from sudden cardiac arrests, especially amongst students and student-athletes."
"When children are in school, they are in our care," Brown said. "This legislation would make us as prepared as possible, not only for our students but for staff and guests as well. We don't want to say, 'We should have had an AED.' We want to say, 'We are proud that we were prepared, and we can rejoice saving a life.'"
According to the Children's Hospital of Philadelphia, two-thirds of deaths caused by sudden cardiac arrest in children occur during exercise or activities and is the leading cause of death in young athletes.
Following the press event, Youth Heart Watch at the Children's Hospital of Philadelphia held an AED-use and hands-only CPR demonstration in a simulation of a sudden cardiac arrest.
Senate Bill 375 passed out of the Senate Education Committee and is now awaiting full Senate consideration. Brown is encouraging Pennsylvanians to contact their state representatives and senators, as well as the governor's office, to voice their support.
View the entire press conference here.
CONTACT:
Christine Zubeck