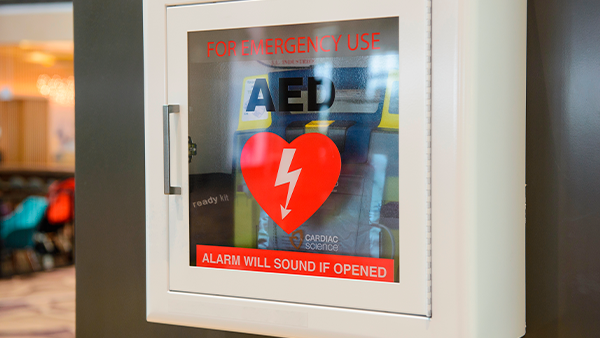 HARRISBURG – A long-time advocate for accessible cardiac technology, Sen. Rosemary Brown (R-40) has now introduced in the Senate legislation which she prime-sponsored also as a member of the House of Representatives. Senate Bill 375 requires schools to have an automatic external defibrillator (AED) present at all athletic and practice events and a detailed emergency plan to be utilized if a sudden cardiac arrest occurs.
"Since 2012, while serving in the House of Representatives, I became even more passionate about passing lifesaving AED legislation," Brown said. "I am introducing this legislation once again and remain hopeful every school in Pennsylvania will have access to AEDs because it is critical for overall school health safety."
An AED is a portable medical device that delivers a shock to the heart through the chest wall to restore normal heart rhythm and is used to treat victims of sudden cardiac arrest. In young athletes, sudden cardiac arrest is often due to an underlying, undiagnosed cardiac condition and can often not be predicted.
Senate Bill 375, along with previous legislation that Brown championed in 2014, was in response to the tragic passing of Greg Moyer of East Stroudsburg, who passed away at age fifteen of sudden cardiac arrest during a high school basketball game in Dec. of 2000.
"Last month, the world witnessed the vital necessity of AED technology and training when Pennsylvania native, Damar Hamlin, collapsed on a football field while experiencing a cardiac event," Brown said. "While I have been working on implementing this important legislation for quite a while now, Damar's traumatic incident has brought increased national awareness to cardiac health concerns of young athletes. This legislation will help prepare schools to prevent tragic deaths, not only of athletes, but of visitors and employees who may be at an event. I am thankful Damar is recovering well and am impressed by the quick response of the medical staff."
Brown circulated a memo on Dec. 9, 2022, announcing her plan to introduce the legislation, formerly House Bill 834 which she prime-sponsored in the House of Representatives.
"I am very hopeful that this legislation will finally receive the support it needs to become law," said Brown.
CONTACT:
Christine Zubeck, 717-787-6123