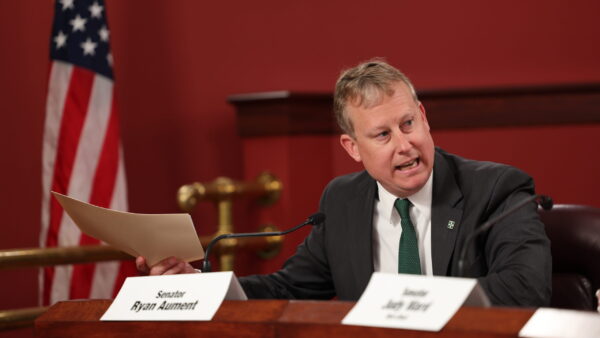 The bill gives a voice to parents concerned with their child's access to sexually explicit content AND parents concerned with book bans.
HARRISBURG – Following a hearing yesterday which showcased the sexually explicit content currently available in some Pennsylvania schools, the Senate Education Committee today advanced Senate Bill 7, legislation sponsored by Sen. Ryan Aument (R-36). The bill would make parents aware of the sexually explicit content in their child's school and give them the ability to limit their own child's access to such content. This is part of Aument's ongoing efforts to empower parents to make decisions with respect to their own children.
Aument has been working on this legislation to empower parents since 2021, taking a measured approach and listening to the concerns of families, school administrators, teachers, and librarians in an attempt to draft a proposal that made all sides feel heard and respected. Unfortunately, he said in the committee meeting today, certain stakeholders have walked away from these discussions.
"Continuing to argue that parents should be left in the dark about what content is available to their child at school, while simultaneously denying them any control over that content, is NOT a workable solution," said Aument. "Because even if the opponents of this bill walk away from the table, the underlying problem remains; one must only look at local school board races to see that this is an issue that concerns many parents across the Commonwealth."
A public poll from 2022 found that 79% of white voters, 73% of both black and Hispanic voters, and 72% of other minorities were at least somewhat concerned that school-age children are being exposed to sexual material that is not age appropriate. It also found that 89% of likely U.S. voters think it is important that public schools fully inform parents about what is being taught to their children in classrooms.
Opponents of Senate Bill 7 label it a book ban and cite concerns that it targets materials by and for the LGBTQ community. Aument rejects these mischaracterizations, saying they do not accurately or fairly represent the plain reading of the bill:
"Senate Bill 7 is NOT a book ban, it is NOT an attack on the LGBTQ community, and it is NOT an attempt to censor minorities or any other group," said Aument. "Senate Bill 7 strictly identifies sexually explicit content, wherever it may be found and regardless of who it may be written by or about, and allows parents to decide if it's appropriate for their own child. It would not remove a single book from school library shelves."
Specifically, Senate Bill 7 would require schools to:
Identify sexually explicit content in school curriculum, materials, and books.
Create an opt-in policy that would:

Notify parents of the sexually explicit content by including a list of the book titles on the form.
Give parents the opportunity to review the materials.
Require parents to give direct consent for their children to be provided or have access to sexually explicit content.

Provide the child with non-explicit alternatives if their parents do not opt-in.
"These images truly are as graphic as we've been saying they are. The hearing yesterday exposed that, and the vote today to advance this bill out of committee affirms Senate Republicans' commitment to ensuring that parents have a way to protect their child from this extremely inappropriate content."
Senate Bill 7 will now advance to await consideration by the full Senate.
Read more about Senate Bill 7 here. Watch the full video or read testimony from the Education Committee hearing on sexually explicit content in Pennsylvania schools here.
Pennsylvanians over the age of 18 can view examples of the sexually explicit content in question on a webpage Sen. Aument launched in 2022 to help educate the public on the extreme nature of these books. [Examples of Sexually Explicit Content in PA Schools]
VIDEO: Sen. Ryan Aument (R-36) opening remarks before the Senate Education Committee meeting to consider Senate Bill 7
CONTACT: Stephanie Applegate