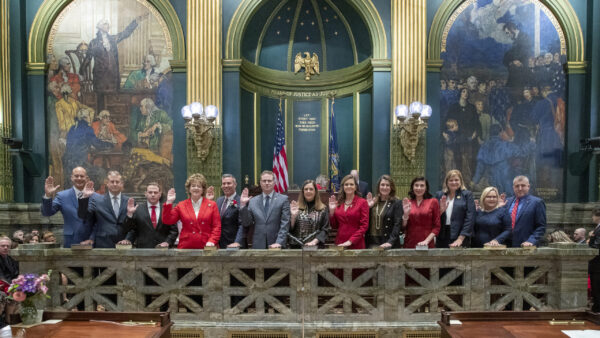 HARRISBURG – Sen. Camera Bartolotta (R-46) today took the oath of office to begin the 2023-24 legislative session in the state Senate working for the 46th District.
With this ceremony, Bartolotta begins her third term in office. Bartolotta was elected by her colleagues to serve as the Senate Majority Caucus Secretary for the 2023-24 legislative session. In this leadership role, she will oversee all executive nominations submitted to the Senate for confirmation, as well as coordinate the review of the background and experience of nominees and ensure proper documentation is submitted.
"As the new legislative session begins, my focus is on bringing back jobs and restarting the economy. My other top priorities include workforce training, responsible government that effectively serves the people, adult education, helping veterans and improving access to high quality health care," Bartolotta said. "I look forward to another four years of hard work to help not only the people of the 46th District, but all Pennsylvanians."
The day's proceedings also included the formal election of Sen. Kim Ward (R-39) as Senate president pro tempore, as well as a vote on rules to govern the body for the next two years. The Senate will return to voting session on Monday, Jan. 9. Standing committee assignments have not been announced at this time, but this information will be shared when it is available.
Bartolotta noted that residents are encouraged to visit her website at SenatorBartolotta.com, and her Facebook page at Facebook.com/SenatorBartolotta. There, they will find information on the latest legislative developments in Harrisburg, state programs and the latest happenings in the 46th District.
Watch the video of today's swearing-in ceremony here.
CONTACT: Katrina Hanna, 717-787-1463