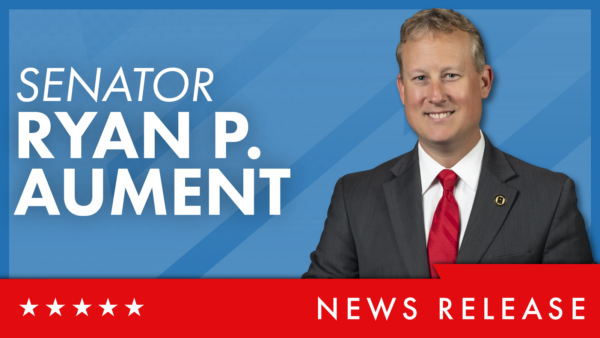 HARRISBURG – Legislation sponsored by Sen. Ryan Aument (R-36) to restore the balance of power in state government was amended into Senate Bill 1, an omnibus constitutional amendment package, and passed by the Senate State Government Committee today.
"My proposal would amend our constitution to ensure that Pennsylvanians have a say in how their government operates by allowing their representatives in the General Assembly to overturn a regulation that conflicts with the will of the people," said Aument.
Aument's proposed constitutional amendment would prevent the governor from vetoing the disapproval of a regulation as voted by the General Assembly.
For example, Gov. Tom Wolf's unilateral effort to force Pennsylvania to join the multi-state Regional Greenhouse Gas Initiative (RGGI) is a clear violation of the checks and balances provided by the Pennsylvania Constitution.
In response to the Administration's attempt to usurp this authority to approve or disapprove any tax increase on Pennsylvania families and employers, both the Senate and the House of Representatives passed a resolution disapproving Pennsylvania's participation in RGGI. Governor Wolf then vetoed this resolution on January 10, 2022, and continued to push this policy forward.
"Neither the executive branch nor any unelected bureaucrat should ever have the unilateral and unchecked authority to issue open-ended orders or regulations," Aument said. "Everyone loses when the people who swear to support, obey, and defend the Constitution disregard that oath and shut down debate to instead make unilateral decisions. My bill would protect Pennsylvanians from ever having to answer to a single individual with unilateral power again."
Constitutional amendments are required to pass both chambers of the General Assembly in two consecutive legislative sessions and then be approved by Pennsylvania voters in a ballot referendum. This measure was approved last session by the Senate and House of Representatives.
Having received committee support, the bill now moves to the full Senate for consideration.
CONTACT: Stephanie Applegate