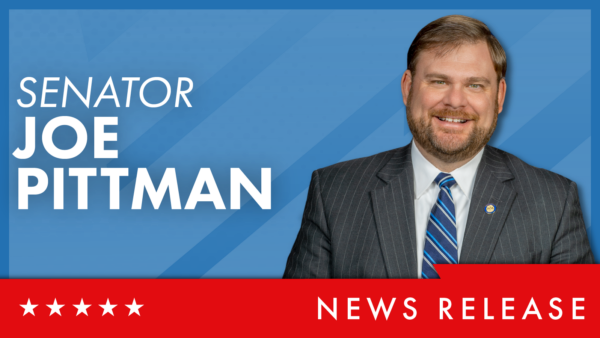 Senate Majority Leader Joe Pittman (R-41)
Last November, the voters sent a divided government to Harrisburg. The governor is a Democrat. The House of Representatives has swung between having the same number of Democrat and Republican members, and the Democrats having a one-seat majority. In the Senate, our Republican majority is strong with 28 members.
In addition to our goals of protecting jobs, empowering families and defending the rights and freedoms of our citizens, over the last several years, the Senate Republican Caucus has fought for fiscal responsibility and limiting government overreach. We continue to see the benefits of this leadership, as just this month Moody's Investors Service has affirmed Pennsylvania's current Bond Rating and revised our commonwealth's financial outlook from 'stable' to 'positive.' This year as part of the state budget, we again stood for fiscal restraint and prevented billions of dollars in new spending proposed by Gov. Josh Shapiro and other Harrisburg Democrats.
Our convictions and priorities will not waver, but we also recognize our duty to demonstrate divided government is not dysfunctional government. The reality of the current political climate in Harrisburg is that it is difficult to come to consensus on many policy measures. However, our different perspectives are not a valid reason to avoid coming to the table and addressing the most basic and pressing issues facing Pennsylvanians.
For any piece of legislation to become law, it must garner at least 26 votes in the Senate, 102 votes in the House and the approval of the governor. A divided government means we must find ways to come together. Effective leadership and legislating means working to understand the perspectives of both sides. By tackling the pressing issues we see coming on the horizon, and then removing those issues from the table, we can move forward step-by-step.
While we continue to wait for the House to return to session and act on necessary implementation language for the 2023-24 state budget, the Senate has taken additional steps to continue moving Pennsylvania forward. On Sept. 20, we unanimously passed school safety legislation to increase and streamline ways to further protect our students. House Bill 27 makes the school safety grant process more efficient and effective, creates an executive committee to identify emerging school safety threats, provides technical assistance to establish school and county safety collaboration, releases $100 million in K-12 school mental health funding and provides additional flexibility for those school districts experiencing shortages of substitute teachers.
Despite our differences, there is no reason Pennsylvanians should be kept waiting on legislation to protect our most precious resources, our children. With unanimous – yes, unanimous – passage by the Senate, and Gov. Shapiro's agreement to sign the measure into law, my hope is the House will follow suit and demonstrate they can also fulfill this responsibility.
It is time we demonstrate what can be done in divided government instead of what cannot. The Senate continues to act and demonstrate we can move forward with the most basic parameters which make our government function. It is past time for the House to come back to session and work with us to solve real problems for the people of Pennsylvania – starting with keeping our students safe.
Joe Pittman serves as Majority Leader of the Pennsylvania Senate and represents the 41st Senatorial District in Armstrong, Indiana, Jefferson and Westmoreland counties.