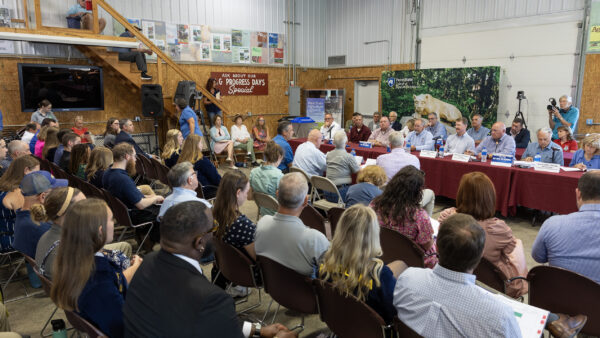 HARRISBURG – In the midst of Penn State's Ag Progress Days and with federal negotiations underway regarding the 2023 Farm Bill, members of the Senate and House Agriculture and Rural Affairs committees joined for an informational meeting yesterday to discuss with stakeholders the potential impacts the impending legislation will have on Pennsylvania.
Senate committee leaders, Majority Chair Sen. Elder Vogel, Jr. (R-47) and Democratic Chair Sen. Judy Schwank (D-11); and House committee leaders, Majority Chair Rep. Eddie Day Pashinski (D-121) and Republican Chair Rep. Dan Moul (R-91), led the discussion with Congressman Glenn Thompson contributing to the conversation from a federal perspective.
"While our state continuously invests in the agricultural priorities our industry holds dear, the Farm Bill opens the door to critical federal funding and helps ensure the creation and continuation of national agriculture-based programs and incentives which benefit our residents," said Vogel. "Today's meeting really highlighted that our state remains united in its support for a fair and well-rounded bill that will benefit our Pennsylvania farmers."
"It is a pleasure and a privilege to work with Senators Vogel & Schwank and Representative Moul as Chairs of the Senate and House Ag Committees to highlight how important the Federal Farm Bill is for Pennsylvania Agriculture and all of Pennsylvania's citizens," said Pashinski. "Today's informational meeting demonstrates how critical the Farm Bill is in supporting our farmers & producers and making sure that we continue putting quality food on all our tables."
Pashinski added, "Pennsylvania is also fortunate to have Congressman GT Thompson as Chair of our nation's congressional Agriculture Committee to help guide this process and place our commonwealth in an excellent position for significant improvements from the new Federal Farm Bill later this year."
Negotiations for the Farm Bill began on Jan. 7, 2023, and are expected to potentially wrap up on Sept. 30, 2023, which happens to be the expiration date of the enacted 2018 Farm Bill.
This legislation will provide funding for various farm programs; conservation efforts; food assistance programs like Supplemental Nutrition Assistance Program (SNAP) and the Emergency Food Assistance Program; and other critical efforts such as trade promotion, forest management, rural broadband, biofuel development, and the national animal vaccine bank.
Stakeholders who were in attendance and provided testimony included Richard Roush, dean of Penn State University's College of Agricultural Sciences; Russell C. Redding, secretary, Pennsylvania Department of Agriculture; Chris Hoffman, President, Pennsylvania Farm Bureau; and Hannah Smith-Brubaker, executive director, Pasa Sustainable Agriculture.
"This is a critical year for Pennsylvanians and our farmers, one that sees the passage of Federal Farm Bill and a recommitment to the Pennsylvania Farm Bill. Just last week Governor Shapiro signed into law a commonsense, bi-partisan budget that makes critical investments in the future of agriculture," said Redding. "The Ag Progress Days Joint Informational Hearing of the House and Senate Agriculture & Rural Affairs committees is another moment to work together and discuss ways to meet the needs of our farmers and communities, whether through funding to increase farmland preservation across our Commonwealth, conservation programs that ensure clean water and healthy soils, and funding to address food insecurity affecting our children, our seniors, and our most vulnerable."
Testifiers covered much ground and expressed their support of various initiatives and programs that remain at the center of discussion for the state and national agriculture industry including adjusting excessive conservation regulations on farmers; allowing whole milk as a drink option in school; further investments into SNAP benefits and other nutrition-focused programs; reauthorization of the Research Facilities Act; and addressing current veterinarian shortages.
"The federal farm bill impacts every Pennsylvania farmer in some way. It's crucial our voices are heard as our federal lawmakers go about putting together the 2023 federal farm bill," said Schwank. "Today's hearing laid out very neatly what aspects of the 2018 farm bill have helped our agriculture sector and where we'd like to see improvements. Regardless of what the federal farm bill looks like, we will be ready to work at the state level to fill holes as needed."
"As the federal government negotiates this important piece of legislation, it must not and cannot ignore the voice of the most critical piece of the equation…the farmer," said Moul. "Agriculture is such an integral part of this country's economy and potential for growth. We are asking more and more from Pennsylvanians who are the ones in the fields and barns, and need to make sure that we take into account what works best for them in working with them."
The United States' first ever Farm Bill was enacted back in 1933 with 2023 marking the 90th anniversary of its inception.
CONTACT: Abby Chiumento, 717-787-3076 (Sen. Vogel)
Spencer Thornburg, (Sen. Schwank)
Destiny Zeiders, (Rep. Pashinski)
Scott Little, (Rep. Moul)
Jay Losiewicz, (Secretary Redding)