CONNELLSVILLE – Sen. Pat Stefano (R-32), chair of the Senate Veterans Affairs and Emergency Preparedness Committee, hosted a public hearing on legislation to allow counties to create countywide public safety authorities for firefighting and/or emergency medical services (EMS).
Rather than replacing volunteer and career fire and EMS companies, authorities would exist to support them and their work with the passage of Senate Bill 698. The bill is designed to further the work of the Senate Resolution 6 Commission. The commission, which was established by Senate Resolution 6 of 2017, was tasked with making recommendations about how to avert a crisis in the delivery of fire and emergency medical services in Pennsylvania.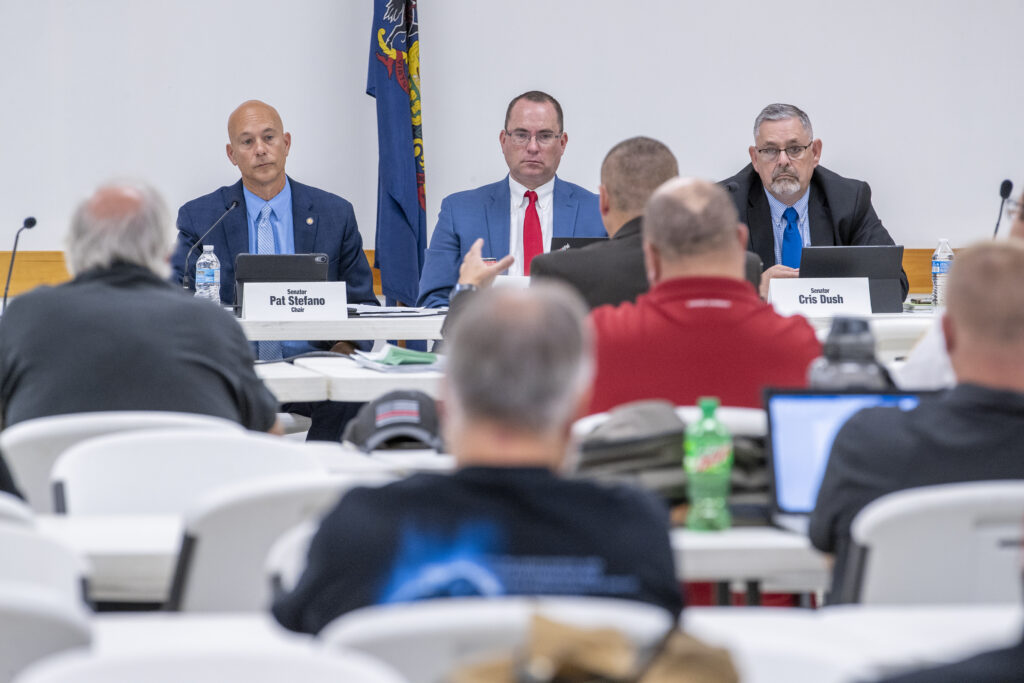 "Many fire and EMS companies and communities know that regionalization provides an opportunity to provide better services in perpetuity, but struggle to find ways to get around the legal obstacles that our current statutory framework inadvertently creates," Sen. Stefano said. "The bill would give PA's fire and EMS companies the option to organize regionally if they choose, which will best meet the needs of our diverse communities."
This sentiment was echoed by testifiers during the hearing, including Sen. Tim Kearney (D-26), "This approach allows county communities to decide what kind of organization is right for them, if any. Instead of a one size fits all model, each region will have the choice to design the specific function and purpose of a public safety authority. . . We want this to be a flexible tool that can be customized to a community's needs."
While the bill does not authorize a public safety authority to take over existing companies, concern was raised that it may happen despite that not being the intention.
Jessica Sorge, the EMS chief and executive director of Hollidaysburg American Legion Ambulance questioned the impact it may have on the community in her written testimony.
"Eliminating competition will significantly decrease the health and safety of the community. There would be no reason to improve and compete when you are the only game in town. As we constantly observe, creating a medical monopoly decreases/eliminates competition, drives up medical prices and operational costs, and decreases patient care and response times," she said.
The committee will take testimony from the hearing into consideration when the legislation is voted.
CONTACT: Nathan Silcox, 717-787-7175, nsilcox@pasen.gov