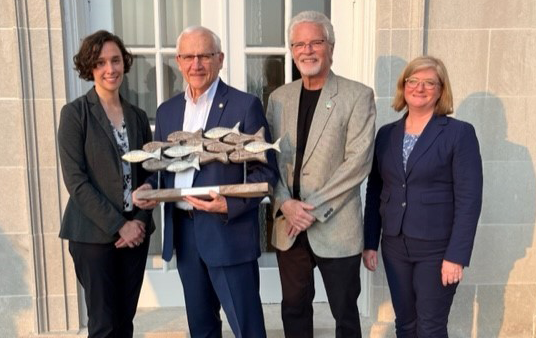 HARRISBURG – Sen. Gene Yaw (R-23), Chair of the Senate Environmental Resources and Energy Committee and member of the Chesapeake Bay Commission, was recognized by the Choose Clean Water Coalition as a "Clean Water Champion" at their annual conference reception in Harrisburg on Tuesday evening.
"I am honored to be named a 2023 Clean Water Champion," Sen. Yaw said. "I am proud of the work we have done to better Pennsylvania's 85,000 miles of waterways, which serve as a source of beauty, purpose, and economic opportunity. I thank the Coalition and its member organizations for this wonderful recognition."
Yaw was honored for his work on legislation establishing the landmark Pennsylvania Clean Streams Fund. Enacted as part of the 2022-23 state budget, the Clean Streams Fund uses $220 million from the American Rescue Plan to clean up rivers and streams damaged by decades of non-point source pollution, including agricultural runoff, abandoned mine drainage and stormwater in developed areas.
"The Clean Streams Fund puts money into action by correcting decades of non-point source pollution with innovative solutions, like farming cooperatives and strategic tree planting," Yaw added. "The Clean Streams Fund will preserve and enhance our waterways for generations to come."
"Senator Yaw is a stalwart advocate for clean water in the Keystone State, most recently by serving as the lead sponsor of the Clean Streams Fund," Mariah Davis, Deputy Director of the Choose Clean Water Coalition, said. "This critical legislation provided a historic investment in clean water programs throughout Pennsylvania, including the Agricultural Conservation Assistance Program, which created the Commonwealth's first agricultural cost-share program."
The Choose Clean Water Coalition is made up of more than 280 local, state, regional, and national organizations that are working to restore clean water to the Chesapeake Bay Watershed. Membership groups span the entire watershed, with organizations in each of its six states and the District of Columbia.
For more state-related news and information, constituents can visit Senator Yaw's website at www.SenatorGeneYaw.com or follow him on Facebook and Twitter @SenatorGeneYaw.
CONTACT: Elizabeth Weitzel
717-787-3280