HARRISBURG – The Senate Veterans Affairs & Emergency Preparedness Committee advanced the nomination of Maj. Gen. Mark Schindler to serve as the adjutant general of the Pennsylvania Department of Military & Veterans Affairs and the nomination of Brig. Gen. Benjamin Cason to be promoted to Maj. Gen. in the Pennsylvania National Guard, according to Sen. Pat Stefano (R-32), committee chairman. The committee also reported a measure providing employment protections to PA residents that serve in an out-of-state National Guard.
Gen. Schindler, who has been the acting adjutant general since December 2020, is in command of nearly 18,000 Pennsylvania National Guard members and a complement of 2,500 employees. He is responsible for overseeing the six state-owned veteran homes and programs providing services to nearly 800,000 veterans. He has 34 years of experience in the Army. He served in combat operations in support of Operation Enduring Freedom and has received many awards and decorations, including the Legion of Merit. Prior to be named acting adjutant general, Schindler was deputy adjutant general for Army.
Gen. Cason is currently the assistant adjutant general for Air in the PA National Guard, where he is responsible for the mission readiness of over 4,000 military personnel serving over five locations in Pennsylvanian. His new assignment will be chief of staff, headquarters, PA Air National Guard. He is a command pilot with over 4,500 flying hours and has spent the majority of his military career in special operation assignments. He has deployed extensively in support of combat operations, humanitarian assistance and peace keeping missions worldwide.
"The Pennsylvania National Guard — one of the largest in the nation — has a proud history," said Sen. Stefano. "I commend Generals Schindler and Cason for their years of service to Pennsylvania and the nation, and I am looking forward to their leadership to ensure that Pennsylvania continues to have the best Guard in the nation as well as serving their fellow veteran."
House Bill 196, sponsored by Rep. Gary Day (R-Lehigh), would provide employment protections to Pennsylvania residents who serve in an out-of-state National Guard unit, similar to what is provided to Pennsylvania residents who are members of the Pennsylvania National Guard.
"It is important that we help ensure that National Guard members are able to focus on their role when activated for federal or state duty," said Sen. Stefano. "And in today's mobile society, it shouldn't matter whether they're in the Pennsylvania or another state's National Guard."
House Bill 196 and the nominations now head to the Senate. Click HERE for the video.
CONTACT: Nathan Silcox, 717-787-7175, nsilcox@pasen.gov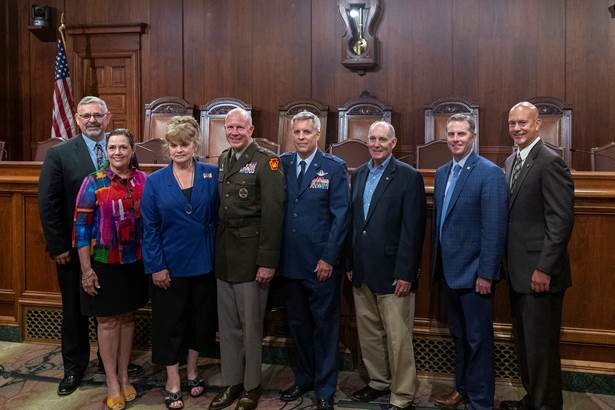 The Senate Veterans Affairs and Emergency Preparedness Committee nominated two key Pennsylvania National Guard generals to serve the guard in elevated roles. From left: Sen. Cris Dush (R-25), Sen. Lisa Baker (R-20), Colette Schindler, Gen. Mark Schindler, Gen. Benjamin Cason, former Rep. Steve Barrar (R-160), Sen. Chris Gebhard (R-48) and Sen. Pat Stefano (R-32).