HARRISBURG – Pennsylvania must provide opportunities for students to return to in-person instruction in schools to protect the mental health and educational development of young people, according to many testifiers at a Senate hearing today.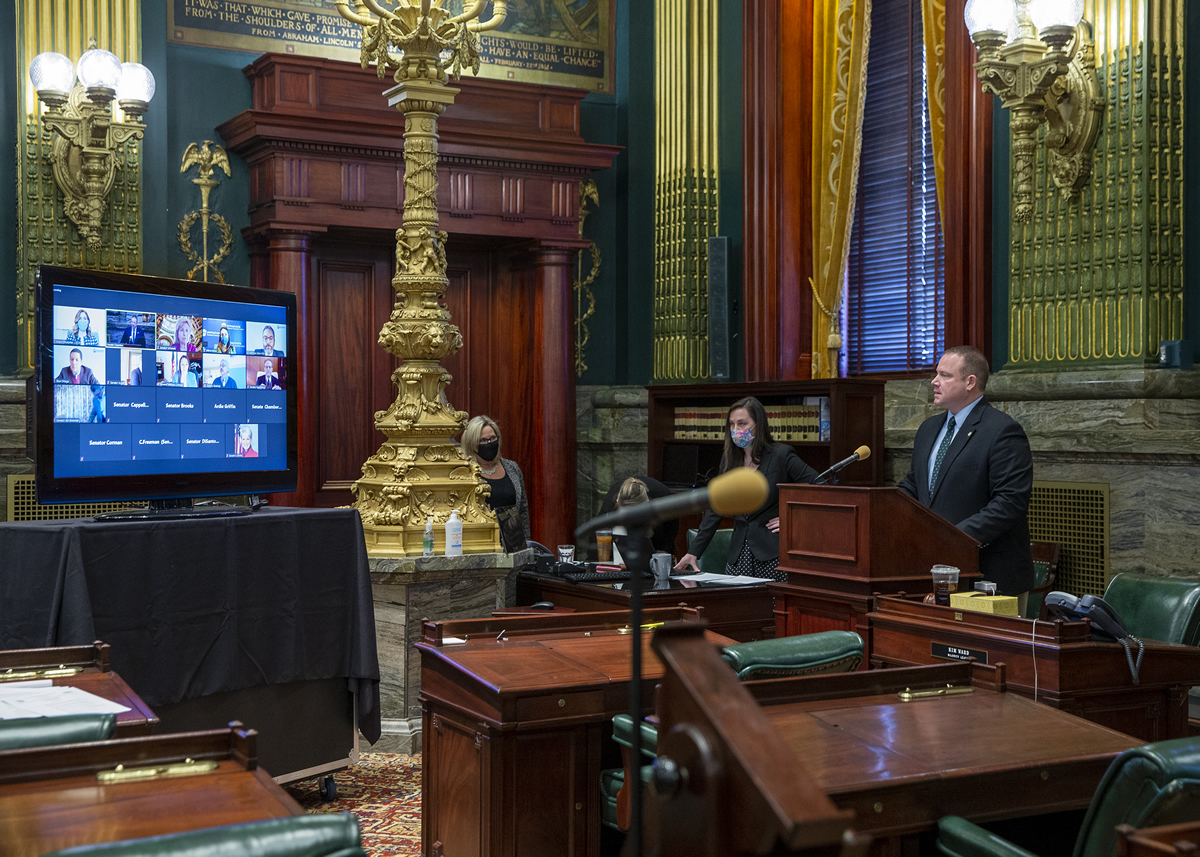 The Senate Education Committee, chaired by Senator Scott Martin (R-13), and the Senate Health and Human Services Committee, chaired by Senator Michele Brooks (R-50), invited teachers, superintendents, students, parents and other key stakeholders to offer their perspectives on the educational challenges presented by the COVID-19 pandemic.
"We have heard about the impact of school shutdowns on students, parents, teachers and other key stakeholders, and it is absolutely essential that we take the right steps to return a sense of normalcy to the education community," Martin said. "Given what we are seeing and hearing, we need to take a more active stance in getting our kids back into their educational environment with their peers."
"Today's hearing focused on the input of parents, schools and educators about how the Departments of Education and Health must provide better and more timely communication to schools and parents, as well as checking in on the challenges of the past year, including rural broadband access, unfortunate testing requirements imposed by the federal government, and giving schools the flexibility to meet the needs of students in individual communities," Senator Brooks said. "I find it very frustrating that states were notified on Monday by the U.S. Department of Education that states will not be permitted to cancel federally mandated standardized testing despite the challenges students, families and schools have faced. We need to stop teaching to the test and empower teachers to share real-life lessons that will help students succeed."
Testifiers broadly agreed that continued school shutdowns are hurting students. Pittsburgh Area School District teacher Robert Mitchell was one of the many testifiers who urged lawmakers to support a return to in-person learning.
"We stand with our students and with their parents: we want schools to reopen," Mitchell said. "While we work extremely hard to engage our kids and never stop learning and developing new skills to ignite that fire in them, we know that for some of them, this is just not working."
Mitchell also supported calls by Senator Martin and Senate Education Committee Democrat Chair Senator Lindsey Williams (D-38) to delay standardized testing requirements for the 2020-21 school year.
Penn Manor High School teacher Streeter Stuart added that the lack of consistency in guidance and policies for school districts presents challenges even for schools that have returned to full-time in-person learning.
"Contact tracing places many perfectly healthy students into quarantine, and families keep children home from school even for the most minor of health issues, now concerned that any symptom might be COVID-19," Stuart said. "An overwhelming majority of students placed in quarantine do not end up testing positive for COVID and to have healthy students removed from the classroom for sometimes weeks at a time is a very unfair burden to place upon a student."
Chad Williams III, a parent of four children in the Unionville Chadds Ford School District in Chester and Delaware counties, raised serious concerns about not only the emotional and financial toll of the pandemic on families, but also the potential learning loss of students. He noted that the number of Unionville students receiving at least one D or F grade has tripled for middle schoolers and doubled for high schoolers.
"If Unionville is indeed a 'top performing' school district, these numbers should shock the conscience of every responsible adult in the Commonwealth," he wrote in his prepared testimony. "The societal fall-out from this massive leadership failure will be felt throughout the Commonwealth, and the country, for decades."
Mt. Lebanon High School junior Josie Cosentino – who made the choice to continue virtual learning due to an immune-compromised family member – detailed the frustrations associated with online learning.
"It seems that the irritation of both the students and the teachers is only growing. It is practically impossible to not go a full day without hearing a teacher make a comment on how they wish we were all here or how much they hate using technology," Cosentino said. "As a fully online student, those comments hurt. But I understand that this is not the teacher's fault, and just how difficult this time might be for them."
Pittsburgh-area parent Rachel Schlosser raised concerns about the ability of schools to meet the educational needs of students with disabilities and special instructional needs. Schlosser's son has special needs and has been unable to access the services he needs while school buildings remain closed.
"The burden on families of students with disabilities has always been high, but the COVID-19 pandemic and the various school closures have placed an unprecedented burden on families and caregivers," Schlosser said. "As a result, now going on a year, our son and many others, with and without disabilities, have not been able to learn or make meaningful progress."
Catholic Diocese of Harrisburg School Superintendent Daniel Breen detailed the development of a comprehensive reopening plan that helped to protect the health and safety of students.
"While we have had COVID-19 cases in our schools, and a few short-term closures, we have been able to mitigate the spread of COVID-19 in our schools and operate effectively. I am happy to report that we cannot definitively trace even one COVID case to exposure in our schools," Breen said.
Pennsylvania Distance Learning Charter School CEO Patricia Rossetti noted that the lessons learned during the pandemic should change the way the state approaches education challenges going forward, including encouraging greater collaboration between schools and addressing the lack of educational options for students.
"Our school community has chosen to look at the past year as one of unforeseen opportunities that allowed us to learn and grow for the betterment of public education for all children," Rossetti said. "We must focus on what we can do, not what we cannot do."
Acting Secretary of Health Alison Beam testified that recent studies show that using mitigation measures makes it safer to return to classrooms, particularly for younger children. Acting Secretary of Education Noe Ortega pledged to work with all interested parties to return students to in-person instruction as quickly as possible.
"Quite simply, our goal is to create the conditions to return students to in-person instruction as safely as possible and as soon as possible," he said. "There is much to be done in the weeks and months ahead to accomplish this and we are committed to working with lawmakers, partner agencies and other stakeholders as we move forward together."
Video and written testimony from the hearing is available at https://www.pasenategop.com/blog/030321/.
CONTACT: Terry Trego (717) 787-6535 (Senator Martin)
Diane McNaughton (717) 787-1322 (Senator Brooks)
Photo caption: Senator Scott Martin and Senator Michele Brooks hosted a public hearing that invited teachers, students, parents, representatives of state agencies and other key stakeholders to share their thoughts on education challenges during COVID-19 and the importance of returning students to the classroom safely.