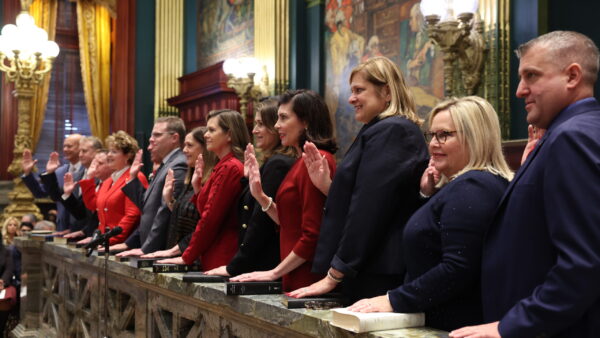 HARRISBURG – Senator Kristin Phillips-Hill (R-York) today took the oath of office to begin the 2023-24 legislative session in the state Senate working for the 28th District.
With this ceremony, Phillips-Hill begins her second term in the Senate of Pennsylvania. The day's proceedings also included the formal election of Sen. Kim Ward (R-39) as Senate President Pro Tempore, as well as a vote on rules to govern the body for the next two years.
"This legislative session, I will continue my efforts to achieve school tax relief, partner with the Pennsylvania Broadband Development Authority so all Pennsylvanians will have access to high-speed internet, rein in wasteful government spending and propose measures to clean up the state's lobbying laws," Phillips-Hill said. "I am ready to hit the ground running to advance the common good and do the serious work of the citizens of the 28th District and all Pennsylvanians."
Phillips-Hill was elected by her colleagues to serve as the Senate Majority Caucus Chair for the 2023-24 legislative session. In this leadership role, she will preside over Republican caucus meetings to develop caucus strategy and discuss bills and amendments.
The Senate will return to voting session on Monday, Jan. 9.
Phillips-Hill noted that residents are encouraged to visit her website at SenatorKristin.com, her Facebook page at Facebook.com/SenatorKristin, her Twitter page at Twitter.com/SenatorKristin, her Instagram page at Instagram.com/SenatorKristin, her LinkedIn page at LinkedIn.com/in/SenatorKristin and her YouTube channel at YouTube.com/@SenatorKristin. There, they will find information on the latest legislative developments in Harrisburg, state programs and the latest happenings in the 28th District. She also hosts a podcast, Kristin's Corner, featuring various guests who provide updates on legislation and other state-related news. More information can be found at SenatorKristin.com/podcast.