HARRISBURG – State Sen. Gene Yaw (R-23), Chairman of the Pennsylvania Senate Environmental Resources and Energy Committee, is introducing the Solar Environmental Justice Act, which prohibits state taxpayer dollars or tax credits from being utilized to purchase solar panels and related components manufactured or assembled outside the United States.
"Currently, Communist China serves as a primary supplier of solar panels and components throughout the world, utilizing rare earth minerals that are mined without proper environmental standards and are often acquired through the use of forced child labor," Sen. Yaw noted. "My bill will require that any solar panels or components purchased by the Commonwealth of Pennsylvania must be manufactured and assembled in the United States. Additionally, no state-authorized tax credits may be used for a project, which would utilize foreign-manufactured or assembled solar panels and components. This approach ensures that, at a minimum, Pennsylvania taxpayer dollars are not used to support foreign governments that do not respect environmental standards or basic civil rights."
The Solar Environmental Justice Act requires:
The Pennsylvania Auditor General to submit to the state legislature a report on the amount of solar panels procured by state departments and agencies;
The Department of Community and Economic Development (DCED) to develop standards and guidelines to prohibit state funds from being used to purchase solar panels or components manufactured or assembled by foreign governments;
DCED to conduct an independent study of the domestic market of solar panel production and the global supply chain and workforce involved in solar panel production;
The Department of General Services (DGS), in cooperation with the Department of Environmental Protection (DEP), to certify that no state contracts for the purchase of electricity or solar energy credits are going to entities, which utilize solar panels or components manufactured and assembled outside the United States;
The Department of Environmental Protection (DEP) to develop a plan for the safe recycling of solar panels and components that are at the end of their useful life.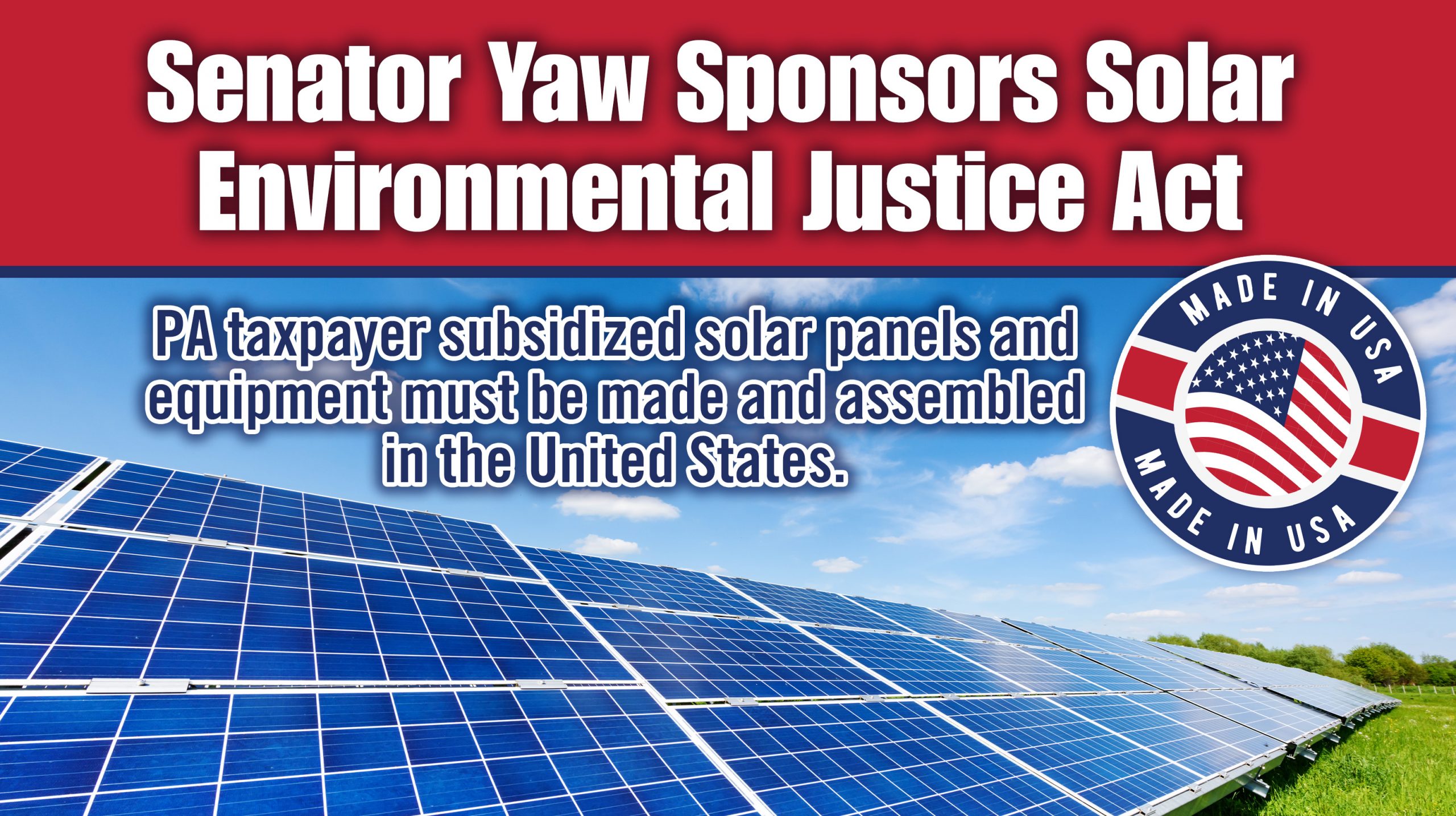 "This is a commonsense way to recognize that basic health and human rights standards should be considered when adopting "green" energy options for the Commonwealth," Yaw added.
For more state-related news and information visit Senator Yaw's website at www.SenatorGeneYaw.com or on Facebook and Twitter @SenatorGeneYaw.
CONTACT: Nick Troutman (717) 787-3280