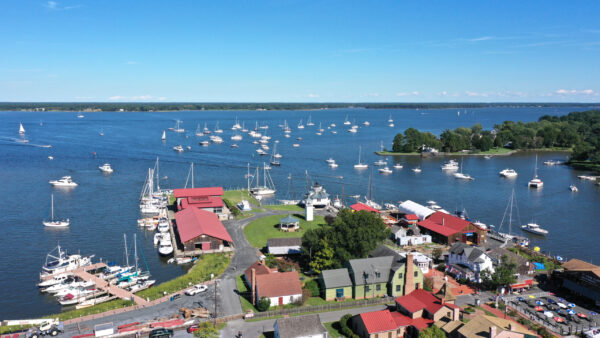 HARRISBURG – The week of June 4th through June 10th would be designated as "Chesapeake Bay Awareness Week" in Pennsylvania under Senate Resolution 124, sponsored by Sen. Scott Martin (R-13), Chairman of the Chesapeake Bay Commission (CBC), and Sen. Gene Yaw (R-23), member of the CBC Pennsylvania delegation.
"The Chesapeake Bay is the largest and most productive estuary in the nation, and its productivity supported the settlement and growth of our nation," Sen. Martin said. "I am proud to work with Senator Yaw and our colleagues in the General Assembly to recognize this critical natural resource and take commonsense steps to clean water in Pennsylvania, which helps to also protect the Bay."
The designation is meant to encourage all Pennsylvanians "to commemorate Chesapeake Bay Awareness Week with events, activities, and educational programs designed to raise awareness of the importance of the Chesapeake Bay to the Commonwealth, the region, and the United States."
"During Chesapeake Bay Awareness Week, we have the opportunity to celebrate and educate Pennsylvania's success in reducing nitrogen, phosphorus and sediment pollution into the Chesapeake Bay," Sen. Yaw said. "We can also promote opportunities where citizens can act and help restore the Bay themselves. It's also an opportunity to call attention to the challenges facing the Bay."
Legislators from Pennsylvania, Maryland and Virginia worked collaboratively in seeking passage of resolutions designating the week-long recognition of the Chesapeake Bay.
"Pennsylvania has no bay shoreline, but half of the Commonwealth drains to the Chesapeake," said Marel King, Pennsylvania Director of the Chesapeake Bay Commission. "We know that what we do here in Pennsylvania impacts our downstream neighbors but more importantly, it impacts our own water quality. Almost one-third of Pennsylvania's local rivers and streams fall short of water quality standards. As we work to improve our own local waters, we will improve both the Bay and Pennsylvania communities."
The Chesapeake Bay is the largest and most productive estuary in the United States, spanning six states and the District of Columbia. It is fed by 50 major tributaries, including the Susquehanna River, which is the largest tributary into the Bay. The Susquehanna River contributes about half of the Bay's fresh water.
Last year, Senators Yaw, Martin, and Dan Laughlin (R-49) collaborated to create the Clean Streams Law to help address agricultural runoff, abandoned mine drainage and stormwater management in developed areas. Yaw and Martin hosted a hearing in January to receive an update on implementation of the law.
For more state-related news and information, constituents can visit Senator Yaw's website at www.SenatorGeneYaw.com or follow him on Facebook and Twitter @SenatorGeneYaw; and Senator Martin's website at www.SenatorScottMartinPA.com or follow him on Facebook and Instagram @SenatorScottMartinPA and on Twitter @SenatorMartinPA.
CONTACT:
Jason Thompson (Sen. Martin)
717-787-6535
Elizabeth Weitzel (Sen. Yaw)
717-787-3280