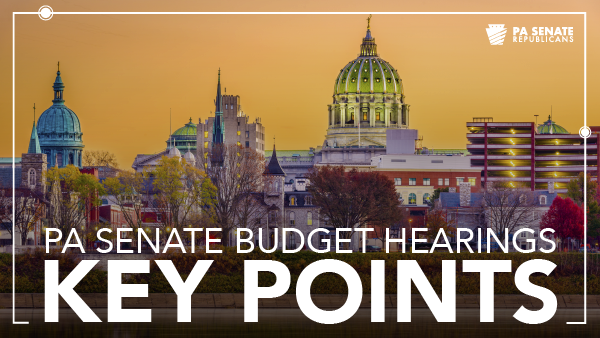 HARRISBURG – The need to create jobs and keep young residents in Pennsylvania were among the topics covered in Tuesday's Senate Appropriations Committee hearings on the budget requests for the Department of Community and Economic Development and Department of Corrections.
The hearings are part of the third and final week of Senate budget hearings. Gov. Josh Shapiro's $45.8 billion plan seeks to boost state spending by more than $1.3 billion above the current year's budget. Senate Republicans are advocating pro-growth policies and helping Pennsylvanians keep more of their hard-earned money as the surest way to meet budgetary challenges in the years ahead.
Department of Community and Economic Development
Gov. Shapiro is seeking a budget for the Department of Community and Economic Development of $191.4 million. Committee members sought assurances from Acting Secretary Rick Siger that this money would be spent efficiently.
Senator Martin on Workforce Development, Barriers to Growth, Performance and Accountability of Tax Credit Programs, and More
Video Highlights
Department of Corrections/PA Parole Board
Pennsylvania's recidivism rate and declining inmate population were among the topics the committee covered with Acting Corrections Secretary Laurel Harry.
You can find the hearings schedule, livestreams, daily recaps and video from prior hearings at PASenateGOP.com.
CONTACT: Jason Thompson