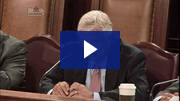 The Senate Education Committee today (September 16) held a public hearing on Senate Bill 1193, legislation introduced by Senator Don White that would give school boards the option of allowing licensed and trained staff to carry firearms on school property.         
SB 1193 would allow school personnel to have access to firearms in school safety zones if school districts establish proper guidelines and they are licensed to carry a concealed firearm and have met certain training requirements in the use and handling of firearms.
"Since the introduction of SB 1193, there has been much discussion about what the bill does and how it relates to current Pennsylvania law," Senator White said. "To be clear, this bill is not about the Second Amendment.  It's about permitting the 500 school districts of this Commonwealth to have greater choices when it comes to protecting our most precious resource – our children."
After his remarks to the Education Committee, Senator White introduced Mark Zilinskas, a mathematics teacher with the Indiana Area School District and the man who gave him the idea and motivation to introduce this bill.
Click here to visit the Senate Education Committee webpage for complete coverage of the hearing.
Contact:
Joe Pittman
(724) 357-0151