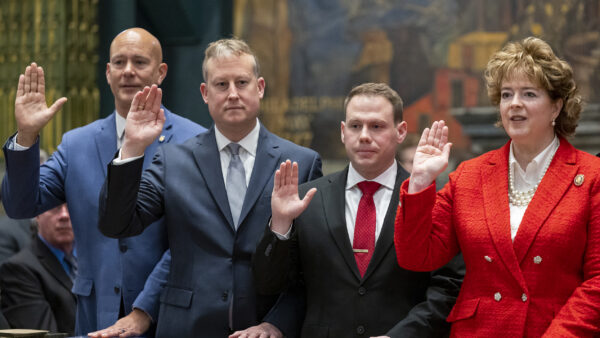 HARRISBURG –
With this ceremony, Brooks begins her third term in office. The day's proceedings also included the formal election of Sen. Kim Ward (R-39) as Senate president pro tempore, as well as a vote on rules to govern the body for the next two years.
"It is an absolute honor to serve the people of the 50th District, and I am humbled to have been elected as their state senator for a third time. I look forward to continuing our work that we've begun, not only for the coming days ahead, but for our future generation," Brooks said. "If there is any way I can help, I encourage people to let me know."
Residents of the 50th District are invited to reach out with their state-related questions and concerns by calling the Greenville office at 724-588-8911 Monday through Friday from 9 a.m. to 4:30 p.m. or the Vernon office in Meadville at 814-337-8132 Monday through Friday from 8:30 a.m. to 4 p.m.
"The new year will bring exciting new developments in the district with the reopening of Tuttle Point Campground and the enhancements of the McKeever Environmental Learning Center. I am also eager to continue my work with tick-related issues impacting the health and well-being of so many families," Brooks said. "I am also excited to cover the new part of the district in Lawrence County, where my staff and I are available at Sen. Elder Vogel's old office."
The Lawrence County office is located at 1905 W. State Street in New Castle and can be reached by calling 724-654-1444 Monday through Thursday from 9 a.m. to 4:30 p.m.
The Senate will return to voting session on Monday, Jan. 9. Brooks has not yet been assigned to the committees on which she'll serve, but will announce that information when it is available.
Brooks noted that residents are encouraged to visit her website at SenatorBrooks.com and her Facebook page at Facebook.com/SenatorMicheleBrooks. There, they will find information on the latest legislative developments in Harrisburg, state programs and the latest happenings in the 50th District.
Watch a video of the PA Senate swearing-in ceremony here.
CONTACT: Christi Martone, 814-337-8132