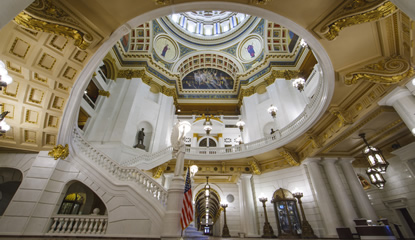 HARRISBURG – Free child identification kits could be made available to parents to help relocate missing children under legislation introduced today by Senators Camera Bartolotta (R-46) and Scott Martin (R-13).
Senate Bill 460, known as the Child Reunification Act, would give parents a critical tool to help law enforcement identify missing children and return them safely to their families. The kits would include inkless fingerprinting materials, DNA collection swabs and other information that can be used to help identify a child in case of an emergency.
Both Senators emphasized that the personal information collected in the kits would only be held by parents and would not be entered into any sort of state or national database. The bill prohibits school districts from retaining the information and specifies that the identification kits are not a public record.
Under the bill, the kits would be distributed by school districts for all students in first grade at no cost to parents. Bartolotta and Martin have been working on the legislation for several months since they first announced the plan in October.
"In a nightmare scenario in which a child goes missing, any parent would want every tool at their disposal to make sure their son or daughter is located and returned safely," Bartolotta said. "To the parents involved in these cases, the only thing that matters is getting their case resolved and getting their child back home as soon as possible. That's exactly what these kits would accomplish."
"When a child is missing, time is precious. Every second counts," Martin said. "Law enforcement needs every advantage possible to help identify and locate a missing child. Although we hope no family ever has to use these kits, having that information at their fingertips can make a world of difference when the unthinkable happens."
The Child Reunification Act is part of a national grassroots effort to expand child identification programs. The community safety initiative was started by the American Football Coaches Association in 1997 in response to the abduction of Amber Hagerman, for whom the Amber Alert was named.
Across the nation, these efforts have been known as the Greene-Trumka Child Reunification Act, honoring the longtime support of Pittsburgh Steelers legend Joe Greene and the late AFL-CIO leader Richard Trumka.
The legislation was designated SB 460 in recognition of the estimated 460,000 children per year who go missing in the United States each year.
CONTACT: Jason Thompson (Martin)
Katrina Hanna (Bartolotta)