For Immediate Release
6/5/13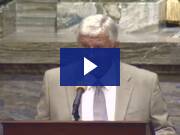 Senate Sends Ban on Taxpayer-Funded Elective Abortions to Governor
The Senate today (June 5) approved and sent to the Governor a measure that would prohibit the use of taxpayer dollars for elective abortions under ObamaCare, according to Senator Don White (R-Indiana), Chairman of the Senate Banking and Insurance Committee and prime sponsor of the companion bill in the Senate.
House Bill 818 was approved with broad bipartisan support by a 31-19 vote and now goes to Governor Corbett for his signature and enactment into law. The measure, introduced by Representative Donna Oberlander, explicitly prohibits health insurers participating in taxpayer-subsidized state health insurance exchanges -- slated to be operational by 2014 -- from providing coverage for elective abortions. HB 818 includes the same language as Senate Bill 3, a measure introduced by Senator White and approved by the Senate Banking and Insurance Committee on April 10.
"The reality is Obamacare gave states the authority to make the ultimate decision on whether elective abortions would be covered in the exchange," Senator White said. "House Bill 818 simply ensures that Pennsylvania's current law is applied consistently when it comes to taxpayer-subsidized health care insurance. The Abortion Control Act - signed into law decades ago by Governor Casey– makes it crystal clear that taxpayer dollars will not be used to pay for elective abortions."
House Bill 818 provides exceptions for cases of rape, incest or when the mother's life is in danger. The bill also bars health insurance exchanges from excluding coverage for any post-abortion complication, any miscarriage or any complication associated with a miscarriage.
Speaking on the floor of the Senate prior to the vote, Senator White emphasized that tax dollars will be used to subsidize the health exchanges, either through subsidies to individuals and families or through credits to insurance companies.
"The federal government has already sent $54 million in taxpayer money to states to train 'navigators' to assist people in signing up for coverage for the exchange," Senator White said. "Plain and simple – taxpayer money is already being used to set up these exchanges and will be used to fund their operations."
Under the Federal Patient Protection and Affordable Care Act, states have the authority to prohibit certain types of abortion coverage made available in taxpayer-subsidized health plans. Currently, 21 states have passed legislation to opt-out of elective abortion funding.
Contact:
Joe Pittman
(717) 787-8724